I have been trying to connect all my DNA matches from Ancestry where I tested the DNA of my mum, dad, brother, half uncle, 2nd cousin, possible 2nd cousin and some cousins once removed.
It is easy to work out the close relatives who I have asked to test but once I get to 4th cousins and further back, it is difficult to find out which branch of mum or dad's tree they come from. What I need to be able to do is find the individual segments of chromosomes that match more than one person and then I might be able to find the precise branch and ancestor the match belongs to.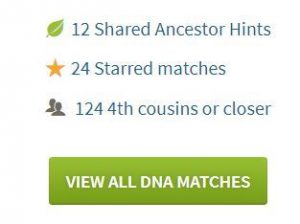 From this you can see I have a total of 124 4th cousins or closer who have tested with Ancestry.
Of those 124, I have worked out where 24 of them are placed on my tree (using my database on my computer).
Of those 24 matches, 12 of them have me linked on their trees on Ancestry. To be a shared ancestor hint, both people need to be on both matches trees on Ancestry.
But how can I work out where those other 100 cousins are located in my tree? Many of them don't have trees on Ancestry or they have a very small one but only for living people so it shows as private when I look at their tree.  A few have private trees so you need to ask permission to be able to see their tree.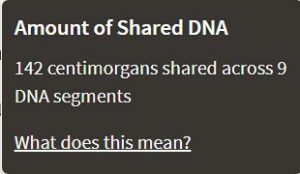 One of the disadvantages of Ancestry DNA matches is they only show how many cM (centiMorgans) over how many segments you share with your matches. To be able to match certain segment areas, I need more specific information than Ancestry gives me.
This is where the site called Gedmatch comes in. Once you have uploaded your raw data, it allows you to make one-to-many comparisons with others who have also uploaded their data. This could be people who have tested with other companies like Family Tree DNA or 23 and me or My Heritage.
My next post will be about using Gedmatch and how it helps you narrow down your matches to particular common chromosomes segments.
Readers: Have you tested with Ancestry? How is your research going there and how many shared ancestor hints have you worked out so far?