I had planned to write this post last Friday while I was volunteering at my local library. But I got sidetracked when a person arrived wanting help with their family history. After an hour talking to them, getting them organized with some pedigree charts and family group sheets and giving them some homework (once a teacher, always a teacher), I sat down at the library computer and began doing some research for them. Time sped by and I didn't get to write this post. Then this morning I received the next prompt and thought – wow I need to get myself together and get this post written.
So who in my family has had a relationship with the library?  Me, Sue Wyatt born in 1956 in Tasmania, Australia.
As a child I loved reading books and the rare times I got into trouble and was sent to my room, it wasn't really a punishment. Instead lying on my bed, reading a book and my imagination took me to other places. We always had lots of books in the house as dad was also a keen reader, mainly history of Tasmania and biographies of others around the world.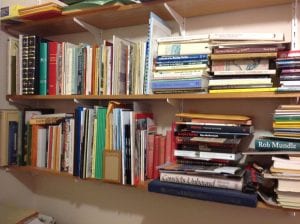 We moved house my second year of high school and being a child who didn't make friends easily, I quickly gravitated to the library during lunch hours. The librarian made me a monitor there so I stacked shelves, took books out for students and helped with the card catalogue (pre computers). It was there and then I decided I wanted to be a librarian.
But by the time I got to years 11/12 in college, I found that part of librarianship was pulling apart books – not literally but themes, reasons for doing certain actions etc. I didn't like this – reading for me was a pleasurable activity – it wasn't dissecting the book and the reason the author wrote the way they did. So goodbye librarian – hello teacher.
In my 35 years as a teacher, I always had a class library in my classroom – many books I had purchased myself. They were there for students to read during silent reading – but I didn't mind if they took them home to share with family. Very few were ever lost as the students appreciated having a variety of books in the classroom. I also made sure they visited the school library and used the encyclopedias for research.
It is only since I have retired that I have started going back to the library and just before Christmas 2018 I decided to volunteer one afternoon a week at the local library. My specialty will of course be family history. We are extremely lucky here in Tasmania, that most of our family history resources like BDMs pre 1930 are digitized and available online.
Libraries Tasmania (previously LINC) have great resources including BDMs, convicts, wills, arrivals and departures all available at the press of a button and part of my volunteer role will be making sure library visitors wanting help with family history know how to use these resources. They have also created a video about using the family history resources.