Mary Dixon nee Pickering was a very strong woman who travelled from London to Tasmania, a three month journey over seas and oceans, when she was pregnant with my great great grandmother Anne Dixon. Mary and her husband David also had a child under three years old with them.
Through possible DNA matches, it appears both David and Mary lived and met near Hull in East Riding of Yorkshire. I have found possible births matching them both in Hull area at the right time period.
So far there is no marriage record found but on the arrivals index held at the Tasmanian Archives and found online through Libraries Tasmania, there is one married male adult, one married female adult and one female child under 3 arriving under the name David Dixon, aged 24 and a farm servant.  Source CB7/9/1/1/ page 15 – TAHO
They were supposedly 45 bounty immigrants on board (but I think children were counted twice under age and sex) and David and his family went to the property of Mr Stevenson at Curramore near Launceston. The date of the application for bounty immigrants was 22 June 1840 and they arrived in Launceston from London on the ship Andromeda on 30 August 1841. Four months later my great great grandmother was born.
It was in 1840 when the assignment system for convicts was changed to a probation system. Settlers now didn't have convicts assigned to them immediately so many needed to have skilled farm servants, blacksmiths etc brought over from England to work their farms. Working as a farm servant or shepherd could be difficult in Van Diemens Land (VDL) at that time with many reports of attack by bushrangers, escaped convicts or aboriginals. Mary, who was three months pregnant, and her two young daughters were involved in one robbery incident early in their time in VDL as mentioned in this newspaper report.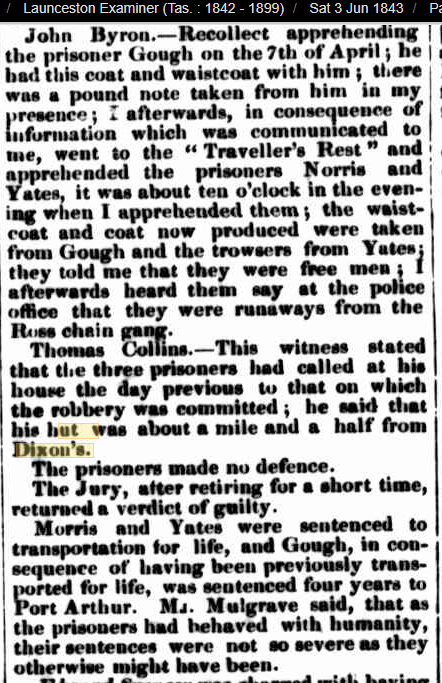 Over the next 11 years four more children were born to the couple Eliza Rachel in 1843, Hannah 1846, Thomas 1850 and Sarah 1852. Sadly Sarah only lived three weeks and died of influenza in mid December in Evandale where the family were now living.
In 1853, there was a David Dixon departing on the ship Clarence to Melbourne from Launceston. I could only find one David Dixon residing in Tasmania at that time, so am assuming he is my great great great grandfather. Elizabeth Dixon, the eldest daughter, was married in 1862 near Ballarat in Victoria so maybe this is where David headed to.
By 1869, David had either disappeared maybe to the goldfields of Victoria or had died and Mary was now considering herself a widow. She had a double wedding with her daughter Hannah. Mary Dickson married George Histead who was a widower, while Hannah Dickson married Jesse Lloyd a bachelor. The event took place at the manse in Evandale. Richard Burton, the husband of Rachel, was also there as a witness.
After 14 years of her second marriage, Mary Istead died age 69 in Perth, Tasmania in 1883 from inflammation of the lungs, and two years later George followed with death from disease of the liver.