Even though we are an ancestry chat for Australia and New Zealand, we also have genealogists from other countries join us each week. Tonight, some of our regular chatters were there from Ireland. They gave us lots of hints, tips, websites etc to help with our Irish research. Many thanks to Tara, Claire, Dara, Claire
Only two questions this week in the twitterchat.
What are your top tips for a beginner searching their Irish genealogy?
What roadblocks have you encountered in your Irish research? What strategies have you used to overcome them?
Tara's top hints for beginners:
If and when you build the bridge back to Ireland, I suggest you start here with this crash course on Irish genealogy and here where you've links to available free records. A map of Ireland and @shanew147 site help 
If you can trace your Irish Ancestors back to a rural area, then townlands.ie is going to be really helpful along with Shane's site. Look for land records (Griffiths and Tithes) and pay attention to the maps that accompany them neighbours/kin
Websites to check out
Odds and ends websites mentioned by chatters or found by me in my research
Blogs to check out
Podcasts about Ireland
Videos on Irish research
Putting in the term Irish in the search at RootsTechConnect brings up many videos to watch.
Carmel suggests the following YouTube channels she finds useful Genealogical Society of Ireland, John Grenham, PRONI online, FndmyPast Ireland and Genetic Genealogy Ireland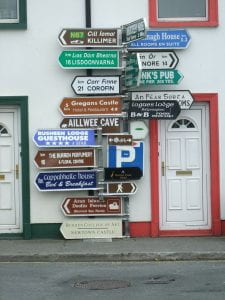 Now for the hints and tips, brickwalls and mysteries mentioned in the chat tonight relating to our own personal Irish research
Jenny: collaborate – send a polite email or message giving enough info to demonstrate you are a relative & you may stumble on a treasure trove – I did for my convict John Madden & I always share documents etc if contacted
Pauleen: Just checked. The Irish Newspaper Archives is available free with your #NLA library card (National Library Australia)
Dara: Records of a sibling (identified through DNA) in Australia, confirmed my GG-grandmother's parents, Not confirmed in Irish records.
Pauleen: The University of Limerick were very helpful to me
Tara: It's worth checking @irishmanuscript too for sources especially early wills and sometimes just a random google search will strike gold. I discovered my grandfather is mentioned in an academic article based on an oral history with a neighbour.

Tara: Also check academic thesis and local histories – you never know what you'll discover. Some family members of mine are mentioned in a thesis about tenants and land agents in a particular parish

Tara: Most Irish universities publish theses on their websites – not easy to search direct from the college site in my experience but google search picks them up.  I will often put in e.g. Parish + Surname

Pauleen: I got great help from the local historian and he gave permission for me to use his thesis. Similarly for an Aussie one. ….always with recognition and citing.
Sophie: Name variants so important. Any time there's a new personal/place name in my tree, I try to write down a list of possible variants & how they interact with typical wildcard searches – definitely improves search success!
Sue: I bought The Great Irish Famine part of the Thomas Davis lecture series when I was travelling around Ireland to get background. Lots of sources throughout the different essays
Pauleen: "Triangulating" the names of siblings with location helps to ensure that you have the right family. #DNA triangulation offers further proof.

Angela: Not a brick wall as such, but discovered descendants of a grand aunt who went to USA in 1922 and disappeared

ANZ: That's fantastic. A local historian referred to that as "bringing them home".
Sharn: I am lucky that my grandmother told me about the place where she grew up as well as names of cousins still in Ireland. My Mary Kelly arrived who knows when from who know where is a different matter
ANZ: Timelines can be a useful strategy to find gaps in your research and where else you might look. It's easy to miss things!
ANZ: JSTOR is excellent for the context of the times and place. Available through National Library of Australia  with an NLA card.
Pauleen: IF you know your ancestor's townland, follow through who inherited the land using the Valuation Books. They may have the missing piece you need, letters or photos

Angela: Sadly not online for the republic. Northern Ireland has theirs digitized

Maggie: And Northern Irish ones (Revision books) available online via PRONI
Angela: One of the most important things to know about your Irish ancestors is their religion so you know where to look for record
Dara: The biggest road block in my research is when the document trail runs out!!! DNA is providing some useful avenues for further research.
Claire: consider the different spellings of the surname & the Irish version. Spelling was much more fluid in the past. @johngrenham has a good variant checker or you can go old school with The Surnames of Ireland by MacLysaght.

Sharn: This is a good tip. I couldn't find an ancestor named Mary Ann Couple but when I searched under CUPPLES I found the family. DNA matches have shown me where they wee from

Claire: Also try thinking phonetically and what rhymes. Looney/Mooney/Cooney/Rooney are totally different names but easy mistranscriptions.

Helen: I had this with Kinsella/Kinchler/Kinsala
Sharn: I have a family fortune to claim for a son in law if I can just locate a marriage record for a couple from Sligo who eloped…. surname O'Rourke/ Rourke/ Rorke sigh
Sue: If your Irish family gets in lots of trouble, make sure to check out the Outrage papers for your county at Irish archives in Dublin if you ever visit. Apparently they are online at FMP as well now
Pauleen: Yes, they're gold! Also the petty sessions records and news reports via FMP can be good clues to find them
Shauna: I found some of mine in court of petty session records on FMP – he liked drinking! Something he did out here too.
Tara: I'd agree with you about FMP (Find My Past) for IrishGenealogy but not about the newspapers – the selection is different on both sites and for 20th C ancestors INA (Irish Newspaper Archives) is much better.

Tara: I'm often struck by #Genealogy chats for places like USA, NZ, Australia -minutiae were recorded, like family visits/vacations. You will not get that in Irish 19-20C papers unless for gentry/nobility. Occasionally you'll get reports of returned migrant

Claire: I wonder why though? Emigrant communities still developing & sharing news to find commonality whereas Irish ones already bedded in and everyone knew everyone's business without needing a paper.

Tara: Yes, that's what I think too Claire. People's lives were far more closely intertwined so no need to announce it. I do wonder if there might have been a "modesty" factor too

Pauleen: And they knew the family stories to some extent – at least locally, but I was told in my place of interest that no one left the village for Australia. I've found over 1200 emigrants. At the risk of causing a fight, I think the emigrants to Australia were sometimes "written off".

Helen: I'm fascinated by the missing friends notices. Sometimes people are trying to locate family/friends who left Ireland/UK more than ten year ago. Imagine that not knowing for so long.

Shauna: That reminds me I have seen lots of missing friends adverts in police gazettes and they often give detailed places of birth

Claire: I actually discovered one of my families had emigrated via one. It's going to be the subject of my #StPatricksDay newsletter.
Tara: In late 19thC and especially 20th C Irish newspapers you will start to see detailed accounts of *some* funerals. Just bear in mind that not every "cousin/relative" mentioned is a blood cousin/relative.
Helen: I do look for siblings. I've done some research for others who wanted a focus on the 'main' line, but the FAN is important!
Sharn: I have found obituaries for Irish in Australia in Irish newspapers to let the folk at home know of the death
Carmel: Currently finding some great Irish resources in the AJCP but you'll have to wait for letter I on 10 April in A-Z blog posts
Pauleen: Don't just search for your ancestor's direct event in the parish registers – look for them as witnesses too. That combined with DNA helped confirm a family relationship for my 3xgt grandmother

Dara: I often transcribe details of all baptism/marriages for a family unit in a spreadsheet, noting all the witnesses, addresses, etc, then investigate these details further, and build an extended family picture. Amazing what you learn.

Claire: Sometimes presenting information you have in a new format gives you ideas for other angles of research

ANZ: One of the reasons why I like writing up my discoveries in blog posts. Also serves as a future reference library 😉
Claire: I'm up to 3 significant breakthroughs with DNA. One led to a discovery of English ancestors. Gg grandfather came from Liverpool to Dublin.
SOPS: I have no known Irish ancestry myself. Of course, there's always the potential that once a parish or townland of origin for Irish ancestors has been found, a #OnePlaceStudy of that place might prove useful!
Shauna: I have Irish families from Islandmagee just north of Belfast
I just noticed this pop up in my newsfeed. I love digitised illustrated newspapers #ANZAncestryTime https://t.co/ix453pZnt6

— Shauna Hicks (@HicksShauna) March 16, 2021

Tara: The other site that I really would recommend is @IrelandXO Especially if you can only make it back to the county or parish of origin. There are local volunteers always willing to do look-ups and in some cases take photos of ancestral photos/graves
Shauna: A big roadblock was no parish records for my ancestor's parish in Wicklow for the time he was born. So I haven't been able to prove his parents so far but I may have found some of his siblings. A work in progress
Margaret: My most recent known ancestor had left by about 1841. Finding anything is very difficult.

Pauleen: So much depends on what survives doesn't it? Parish registers in a leaky barn with the mice, restrictions on Catholicism etc

Claire: Yes, a lot of parishes only get going with records in the 1820s-30s
Sue: Roadblock was just the county name, no towns or anything but found a bit more in the Irish Australia Transportation database – brother, father and another relative all same conviction
Pauleen: sibling's certificates, oral history, distant cousins info, have all helped with my #irishgenealogy.
Sharn: newspapers can be a wonderful source of information about Irish ancestors especially if they were in trouble with the law.
Pauleen: We need to remember that pre-1922 records we need may be in UK (or later if estate records).

Hilary: if you have someone who was in the British army and born in Ireland check out their military and pension records if they exist it may help with clues

Claire: This even works when you are already Irish! Gg grandfather's place of birth identified from his military record. Had to get from the UK national archives.

ANZ: Great tip – a lot of Irish became policemen in Australia so maybe check out police records here too
Pauleen: Also check out @johngrenham's blog and site for what's available in your parish and compare which of the paid sites have the relevant records you want.
Pauleen: if you know your ancestor had siblings here as well, it's worth getting their certificates to compare what's recorded on both.
Shauna: my top tip would be to buy as many Australian certificates as you can for an Irish ancestor including their children's birth certificates. They may have given slightly different place names/spellings for each child. Might help to pin down location in Ireland
Sue: Read relevant blogs, watch videos from webinars and seminars from different sites eg Legacy, Ancestry etc relating to Irish records, townlands etc
Sharn: You can find Irish Wills here http://www.willcalendars.nationalarchives.ie/search/cwa/home.jsp
Pauleen: is there an elderly person who might have the oral history about your #irishgenealogy? Be aware some content may be inaccurate so you need to follow it up eg they didn't come from Cork. 😉🙂

Tara: Also bear in mind that many placenames are not unique. Bishopstown in Cork and Westmeath. Killyon in Offaly and Westmeath, etc etc There is a problem with Ancestry's algorithm and it will reset to best known one

Helen: It is also a bit frustrating that everyone was called Bridget, Ellen, Michael, Patrick, Martin and Catherine!!!!

Tara: But sometimes you'll start to see patterns A bunch of men in a parish with the same surname name their oldest sons Martin

Sharn: I only discovered the real name after writing a blog about so many variations of spellings. A family member from Ireland living in Spain read the blog and set me right

Shauna: mine was Bailieborough in Cavan and I had over a dozen different variants before I located it. Then found their baptisms in the church records!
Sharn: I am lucky that one side of my Irish comes from convicts as the convict records clearly state where they were from
Sue: Know which religion is where in Ireland and what records are available for each and where they are held
Sue: read up on Irish history to know when Scots went over there etc and what events happened when the Irish migrated
Pauleen: Don't forget to check out the #familysearch wiki to see what's available once you know "your" parish
Shauna: I have trawled this Irish BDMs site irishgenealogy.ie for as many free certificates as I can locate for my surnames in the areas they were in. Trying to reconstruct families in local communities
Fran: The Caloundra Ireland Special Interest Group hangs out every month on Zoom now so if your local group does not have an Irish SIG it would be possible to join another society. Same applies to any topic
Maggie: Very useful to spend time understanding land divisions in Ireland, for example, the difference between a civil parish and a RC parish. Claire Santry's site is a great resource for all things Irish genealogy-wise!
Pauleen: Research widely and deeply in Down Under records until you find your immigrant's parish, or preferably, townland.

Tara: Also, if you don't know where in Ireland your ancestors came from, don't assume that they came from the place where that surname was popular. People migrated around Ireland quite a bit for various reasons and settled in new counties

Sharn: Check marriages of all known children and relatives of your Irish descendants in the hope one names the homeplace
Sue: Upload GEDmatch numbers to the Irish county Facebook groups that have the matching tool for each county you might have ancestors in
Hilary: As with any research create a research log and write down what you already know and where you found it
Tara: We are very lucky in Ireland to have free access to so many records but newspapers are not one of them.
Sue: Don't give up, the records are there, they weren't all burnt in that fire
Have you signed the petition to lobby for early release of the 1926 Irish census? https://t.co/Qgf90YCWw4#ANZAncestryTime #Ancestryhour

— 🇮🇪CBGenealogy (@Rosiemonstre) March 16, 2021

Our Irish surnames
Jennifer: My Irish family so far are Boyles in Donegal and Calnan in Kilkenny. Have only done the Australian research. Need to start on the Irish beginnings
Helen: Throwing my Irish ancestry out there in case #ANZAncestryTime – Cahill (Carlow), Nolan (Clare), Shanahan, Kennedy, McCabe, Tookey, Dooley, Burke, Erwin, Kinsella, Gilmore, Feney, Hurley (not sure yet), McCormack (Belfast/convict)
Pauleen: My Irish ancestors' names and places: O'Brien (Co Clare), Callaghan (Courtown, Wex), Furlong (Tullamore, Offaly/Kings), Gavin (Dublin and Kildare), Murphy (Wicklow and Dublin), Sherry (it's a mystery!!)
Sue: Jackson in Donegal and McCrewney? Newry Parish, Down, NI and possibly Somers (Summers) in Wexford and Cullen in Wexford
Blog posts about our Irish families
Pauleen: East Clare emigrants, posts tagged Irish, category for Irish family history
Sue: Series of posts about researching Rebecca Jackson my great great grandmother from Ireland – post1, post2, post3, post4, post5 and post6
Sue: three short stories based on newspaper reports about Rebecca and the family – story1, story2 and story3