Mum and her sister Margaret would put together some Christmas boxes for Samaritans Purse each year. These boxes would include soap, washer, pencils, notepad, a toy and a piece of clothing as well as other things useful for children overseas.
Aunty Marg would make girls skirts while mum would knit teddy bears. But after mum had her stroke and aneurysm, she couldn't follow patterns or recipes any more, so she would knit headbands and marble bags instead.
We had a friend Margaret Mead who worked with children in Africa as part of her nursing, so mum adapted her knitted bears pattern to make children who were brown for her to take with her, next time she headed to Africa.
Also when the fires burnt down a lot of Dunalley here in Tasmania, mum knitted teddy bears to give to affected students as something for them to keep and play with.
Mum thoroughly enjoyed knitting her teddy bears whilst watching the TV and checking out the window who might be visiting.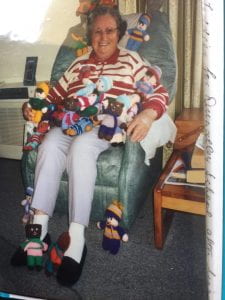 Readers: Do you have an interest that keeps you occupied when you are ill?