Boxing Day here so mum, dad and I went out for lunch at Live Eat Moonah. This is a franchise owned by my cousin Kelli who turned 46 today. We had a great healthy meal, but had to be home by 1pm ready for the start of the Sydney Hobart yacht race which mum likes to watch every year.
On the way home, mum told us that her father took her to watch the very first race 74 years ago when she was a child about 11 years old. Nearly every morning once the race began, they would walk from Grosvenor Street in Sandy Bay to Princes Park in Battery Point to watch the boats come in. They would only go down when he knew some boats would be arriving.
Her father Henry Lewis England loved boating and would often take mum and her sister fishing off Sandy Bay beach.
Mum couldn't remember much more about the yacht race other than they didn't take any food with them and they were there when the last boat came in.  Dad piped in from behind me in the car with his memories of that race. He knew it was the ship Wayfarer that came in last nine days after the race started. He thought the ship was from Launceston and only did a leisurely cruise rather than racing hard.
Looking at reports in newspapers on Trove, the first official race in 1945 had lots of problems. Some of these still happen now 75 years on.
Two ships went 'missing'
Gales across Bass Strait
Becalmed near Hobart
Comparison of Sydney Hobart with Fasnet race held off Isle of Wight in England
In August 1945, there was discussion on having a race in 1945.
The race has begun with 9 yachts taking part.
First casualty of the race was Archina.
Bad weather slowed the race but a Tasmanian yacht is in the lead
One yacht reappears near entrance to Storm Bay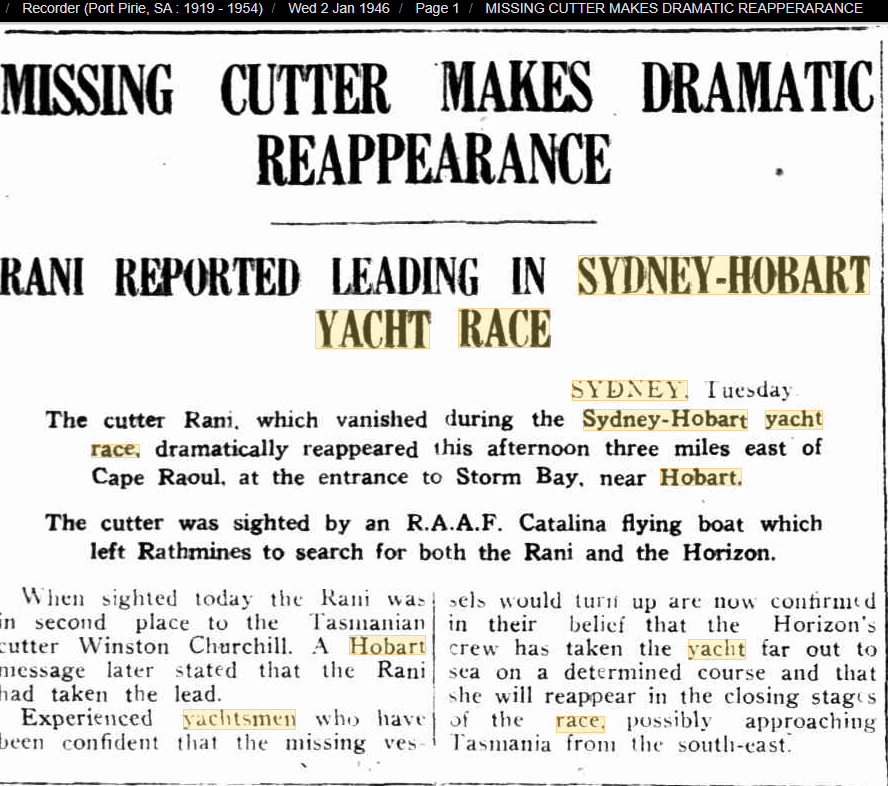 Rani crosses the line at 1.45am on 2 January 1946 to win the race and handicap honours.
Discussion about race becoming an annual event.
Should it also become a Hobart to Sydney race sometimes?
The placings – only Wayfarer to arrive
The last yacht has finally arrived after sheltering in Port Arthur – 11 days after start of the race.
Mum and dad's memories were fairly accurate considering it happened 75 years ago when they were both children.
Readers: Have you or one of your family members taken part in a big yachting race? Have you been at the start or finish of a yachting race?