According to her birth certificate, Nellie SOMERS was born on 20 May 1889 to Thomas Somers and Alice Somers nee O'Keefe. Alice was living at Georges Bay area in the north east of Tasmania. No marriage has been found for Thomas and Alice though.
Nellie had many siblings but it is not proven yet if they are full siblings or half siblings as the father is not mentioned on many of the birth certificates.
Kate Clarke born 4 Feb 1893 parents as West Clarke and Alice O'Keefe Clarke then baptised as Kate Clarke on 28 March 1893 with parents John Clarke and Alice Clarke
William Henry Somers born 6 Dec 1894 mother Alice Somers at Lottah, but baptised as William Henry Clark on 28 Jan 1895 parents as Wes Clark and Alice Somers
Jessie May Somers born 15 May 1897 mother Alice Somers but baptised as Jessie May Clark on 14 Dec 1898 parents as John West Clark and Alice O'Keefe
Joseph Edward Somers born 30 Oct 1898 mother Alice Somers but baptised as Joseph Edward Clark on 14 Dec 1898 parents as John West Clark and Alice O'Keefe
Herbert Francis Somers born 4 Feb 1901 with mother as Alice Somers O'Keefe and her having been married in 1885 in Melbourne but no father for Herbert.
West Clarke was a contractor in Gould Country in north east Tasmania. The following was reported in The Mercury in May 1897.
At some stage in the next twenty years, Nellie moved to Queenstown. It was here that she met Alexander Dawson and had a daughter with him. It is unknown if he knew he was a father at that time. This has been proven through DNA.
This daughter, Irene Ellen Gertrude born in July 1909 on Bruny Island, was brought up by Nellie and her husband Robert Edward SMITH. No marriage has been found for Nellie and Robert but in the Hobart birth records for Robert Edward Ivan Smith in 1910, a marriage for his parents is mentioned as 16 April 1908 at Gormanston on the west coast of Tasmania.
Married life and children
Irene Ellen Gertrude 1909-1988
Robert Edward Ivan 1910-1910
William Henry Basil 1911-1988
Madelene Constance Victoria 1912-1999
Myra Isobella (Pat) 1913-2003
Olga Phyllis 1915-1969
Jack 1918-2000
Sarah Ellen (Sally) 1919-1968
Thomas Allan 1921-2003
David 1923-2010
Mervyn Leslie 1925-2002
Ruby Margaret 1927-2010
James Henry (Tony) 1929 –
Maxwell Brian 1931-1993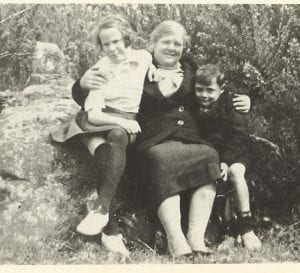 We can follow the family's moves by looking at the electoral rolls.
1914 – living at Ramsgate in the Esperance municipality and Robert was a  sawmiller.
1919 – living at Garden Island Creek near Port Cygnet and Robert working as a mill hand.
1922 – living in Scottsdale with Robert working as a sawmiller.
1928 – living at 4 Antill Street, Hobart. Robert was a wharf labourer and Nellie home duties.
1937 – living at Oyster Cove and Robert earning a wage as a labourer.
1949 – living at 307A Liverpool Street. Living at home with Nellie and Robert were David (a trainee), Jack (plasterer) and Mervyn Leslie (labourer).
Nellie died on 4 June 1952 and it was reported in the papers.
A bereavement notice was put in the local paper in July by her husband and family who were still living at the same address.
An inquest was held into the death of Nellie. She left home about 2pm with the intention to visit her daughter Irene Ellen Wyatt at the Albion Hotel where she worked. But Nellie did not visit her. She was found the next day, floating near the Domain Slipyards. The coroner found her death to be asphyxia by drowning but no idea how she came to be in the water.
Irene Nellie and her husband Robert Edward Smith (died 1964) are buried together at Cornelian Bay in the Church of England section B53
Memories of Irene Nellie from my father, her grandson. 
When his mother, Irene Ellen Gertrude Smith was walking him home to Goulburn Street, they would sometimes drop in to the house at Liverpool Street to visit his grandparents.