Uncle Mike is my Polish grandfather. He married my grandmother just before my parents were married so he is actually a step grandfather but we always called him Uncle Mike.
I have written about Uncle Mike and his life in Poland, his war life in WWII and his early life in Tasmania.
But this post on Remembrance Day is to think about Uncle Mike and how proud he was to take part in the ANZAC day marches in Hobart. Once he lead the group with his Polish flag, but generally he was just part of the group marching.
After the march was over, Mike and his friends would go back to the Polish Club to celebrate with family and friends.
There is a very strong Polish diaspora here in Hobart. They began their Polish Association in 1950 with the migrants who had come to Tasmania in 1947-1948 after the war in Europe. Mum and I also found out about the Polish Scouting group at one of the Guiding camps they attended in the 1980s.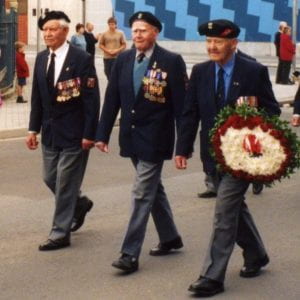 Readers: Who did you think about on Remembrance Day?