Florence Emily Georgina EVANS was the fifth child born to George and Mary Ann Evans nee LEE. She was born on 2 June 1878 in Croydon, Surrey, England and two years later was baptised on 27 June 1880 along with three other children living at the same address. One was her sister Louisa but I still need to find out if the other two children (surname Dry) were related somehow. [1]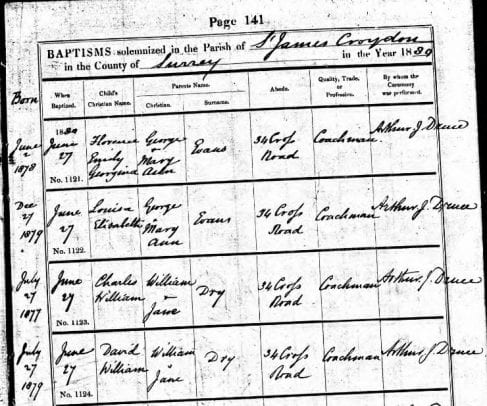 Florence's siblings:
Thomas George – born 1871 at Eltham, Kent
Albert Edward – born 1872 at Eltham, Kent
William Jonathan – born 1874 at Eltham, Kent
Alice Maud – born 1877 at Norwood, Surrey
Louisa Elizabeth – born 27 Dec 1879 at Croydon, Surrey
Frederick Charles – born 1888 at Croydon, Surrey
According to the 1881 census, the family were living at 34 Cross Road, Croydon and the father George was a coachman. Six children in family still living at home. The Dry family had moved out by this time and another married couple, William and Eliza Ridley, were also living at 34 Cross Road.
On the 24 August 1885, Florence's sister Louisa was admitted as an infant to the Salter Hill's School which was very close to 10 Berridge Street where the family was now living. There is no mention of her transferring from this school and it is found that Louisa died in 1887. Maybe it was an accident while at school. I could find no mention of Florence being at this school. [2]
By the time of the 1891 census, the family were living at 120 Livingstone Road, Thornton Heath and her father was listed as a coachman/groom. Also at home is brother Thomas, a domestic coachman/groom, her brother Albert a plumber, her brothers William and Frederick as well as Florence aged 13.
On 31 January 1897, Florence gave birth to her first child Frank Earnest Evans.
Florence married William Elvis Allen on 5 February 1900 at the Parish Church of Thornton Heath in Surrey. They were both 21 years of age and William was a carpenter. They were both living at 120 Livingstone Road in Thornton Heath. The fathers were George Allen, a bootmaker, and George Evans, a coachman. The witnesses were Florence's parents. [3]
Between October and December in 1900, Ethel Maud Allen was born, their first daughter.
According to the 1901 census, William, Florence, Frank (now Allen) and Ethel were still sharing a house with George and Mary Ann Evans and two of Florence's brothers, Albert a soldier and Charles (born as Frederick).
It is at this point that Florence's life starts to change. Florence was now 6 months pregnant when her husband William died from smallpox at the Croydon and Wimbledon Smallpox hospital on 26 March 1902.  Between April and June 1902, her daughter Ethel also dies – I need to find out if that was also from smallpox. Then on 27 June 1902, her son William Elvis Allen was born.
Florence now has two young children to look after Frank aged 5 and William a newborn without a husband to bring in the money. Hopefully she was still living with her parents who would give her help.
At some stage Frank was put in a boarding school in Croydon but in June 1904, his guardian is now Mary Ann Evans and she is living at 13 Belvedere Road with Frank now attending Woodland Road School in Lambeth. But two months later, he is transferred to the Boys Department. [4]
On 12 April 1905, Florence remarried. Her new husband was Frederick Edward Bray. At the time of the marriage they were both living at 13 Penrith Road. Frederick's father also called Frederick was a gardener. They were married at St Paul church in Thornton Heath.
Florence's children
Frank Ernest Evans 1897-1978
Ethel Maud Allen 1900-1902
William Elvis Allen 1902-1974
Albert Edward Bray 1905-1988
Kathleen Florence Bray 1906-1995 married name Hansford
Charles Frederick Bray 1909-1971
At the time of the 1911 census, Florence was living with her second husband at 124 Livingstone Road. She has three children with him and two of her earlier children living there in four rooms. Her husband Frederick is a general labourer with Croydon Council. Another family, the Osborn couple and a baby, also living at same address are in only two rooms. [5]
In October 1931, a letter from a lawyer in Australia relating to Florence's son, William's first wife Emily Daisy Green applying for divorce, was sent to Florence c/- 57 Stanger Road, South Norwood which was the most recent address known to William and Emily.[6]
The 1939 register shows Florence and Frederick living at 31 Ferndale Road, Croydon with her son Frank (still single) from her first marriage. Frederick and Frank general labourers using heavy vehicles. Frederick works with the Corporation of Refuge Destruction while Frank is with Engineering. [7]
In 1940, after 35 years marriage, Florence's second husband dies and 10 years later Florence also passes 10 October 1950 aged 72. According to the index of wills and administration, Florence leaves £573 4s 3d to her daughter Kathleen. Florence had been living at 35 Furze Road, Thornton Heath at the time of her death. Her son Frank, still single, was living there when he died in 1978. [8]
Sources: All found on Ancestry.com
Surrey History Centre; Woking, Surrey, England; Surrey Church of England Parish Registers; Reference: 2809/1/3
London Metropolitan Archives; London, England; School Admission and Discharge Registers; Reference: LCC/EO/DIV08/SAL/AD/008
Certified copy of entry of marriage in my possession, since June 2020.
London Metropolitan Archives; London, England; School Admission and Discharge Registers; Reference: LCC/EO/DIV08/WOO/AD/007
The National Archives of the UK (TNA); Kew, Surrey, England; Census Returns of England and Wales, 1911 Enumeration District: 31
Copy of divorce letters in my possession, December 2020.
The National Archives; Kew, London, England; 1939 Register; Reference: RG 101/1274C, Enumeration District: CLAJ
England & Wales, National Probate Calendar (Index of Wills and Administrations), 1858-1995, Surname Range: Aaron-Byworth 1950