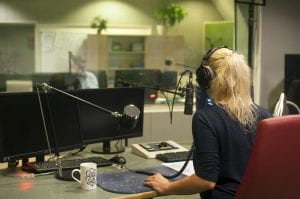 A few weeks ago, I was asked by a librarian at Rosny Library if I would be prepared to be interviewed on ABC Radio. After a bit of thought, I said yes. Topic was volunteering at Rosny Library as a family historian. I prepared a few notes about my journey as a family historian including completing the Diploma of Family History at UTAS in 2017. Then some notes about what I do as a volunteer at Rosny mentioning the hour long one-on-one appointments and this year, the workshops on specific topics about family history.
Contact was made with the co-ordinator of the ABC program, she asked me some questions to which I answered and then she said instead of a short interview on breakfast radio, it would be better for a longer interview on evening radio. This was a great idea as I am certainly not a morning person.
So last night, Monday 4 July, the time arrived. A different co-ordinator rang me and mentioned as the programme was more than just Tasmania based, they wouldn't be asking so much about my volunteering at Rosny but more about my journey and personal research of my own family history.
I think the interview went well. It was about 15 minutes long on Evenings radio with Christopher Lawrence. If I get permission I will add a link to the interview here so others can listen to me rambling on about my family history.
UPDATE: The interview starts at 2 hrs 18 minutes in on this link at the ABC Radio website.
UPDATE on UPDATE: The link to the interview has now expired. I have contacted archivists at ABC to see if I can get an audio file to add to this post.
Readers: Have you ever been interviewed on radio or TV or an oral history research program?