William was the fourth child but the first boy born to parents George James and Mary ALLEN nee SPRY-SHUTE. He was born on 4 May 1881 at 20 Howard Road, South Hornsey, London, England. His father was noted as a shopman. One month later on 3 June 1881, he was baptised at St Matthias Church at Stoke Newington, London, England.
William's siblings were:
1870 Alice E Spry Shute
1876 Jane
1880 Maud Ellen Mary
1884 Thirza
1887 John Henry
1889 James Ernest
1892 Harold Edgar
William was born after the 1881 census, but his family were living at 65 Spencer Road at South Hornsey, and the head of the family, George, was a boot shop manager. There were three other families also living at this address – John Downs, Isaac Downes and John Allet.
Howard Road (in yellow) and Spencer Road (in purple) intersected and St Matthias Church (green) was at the end of Howard Road.  20 Howard Road in brown.  Distance between church and house no more than 100 metres.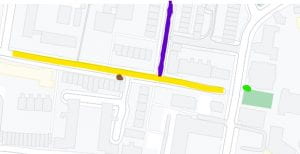 For some reason, the whole family moved from north of the Thames at Stoke Newington area to Croydon which is south of the Thames. This was prior to Thirza's birth as she was born in Croydon and was 6 in the 1891 census.
By the 1891 census, William was now included. The family were living in a yard (Collyers??) near 149 Southbridge Road in Croydon, Surrey, England. His father was now a translator of old boots. His sisters, Jane and Alice, were no longer living with the family.
William is not living with the family at 39 Wilford Road in 1901 where his father was still a translator of boots working under his own account.
By 1897, William had moved to Thornton Heath (about 4km north of Croydon) where a child was born called Frank Earnest Evans. The mother was Florence Emily EVANS. Three years later on 5 February 1900, William and Florence married at the Parish Church at Thornton Heath.
William was a carpenter and both William and Florence could sign their names on the certificate.
Ethel Maud Allen was born to the couple in October 1900. In the 1901 census, William now married and living with wife Florence and two children. William was a carpenter. Also in same house at 120 Livingstone Road is Florence's parents and two brothers, Albert a soldier and Charles.
Between June 1901 and January 1903, the Metropolitan Health Board were notified of 9484 cases of smallpox from twenty different sites around London.
Florence was pregnant again with William Elvis Allen junior, when her husband died on 26 March 1902. William died of confluent smallpox (16 days) and undecimated? septicaemia and bronchitis at the Croydon and Wimbledon Smallpox hospital. He was aged 24 and a carpenter. Jane Chandler, sister of William Elvis Allen, was informant at his death. She lived at 13 Beulah Grove, Croydon.