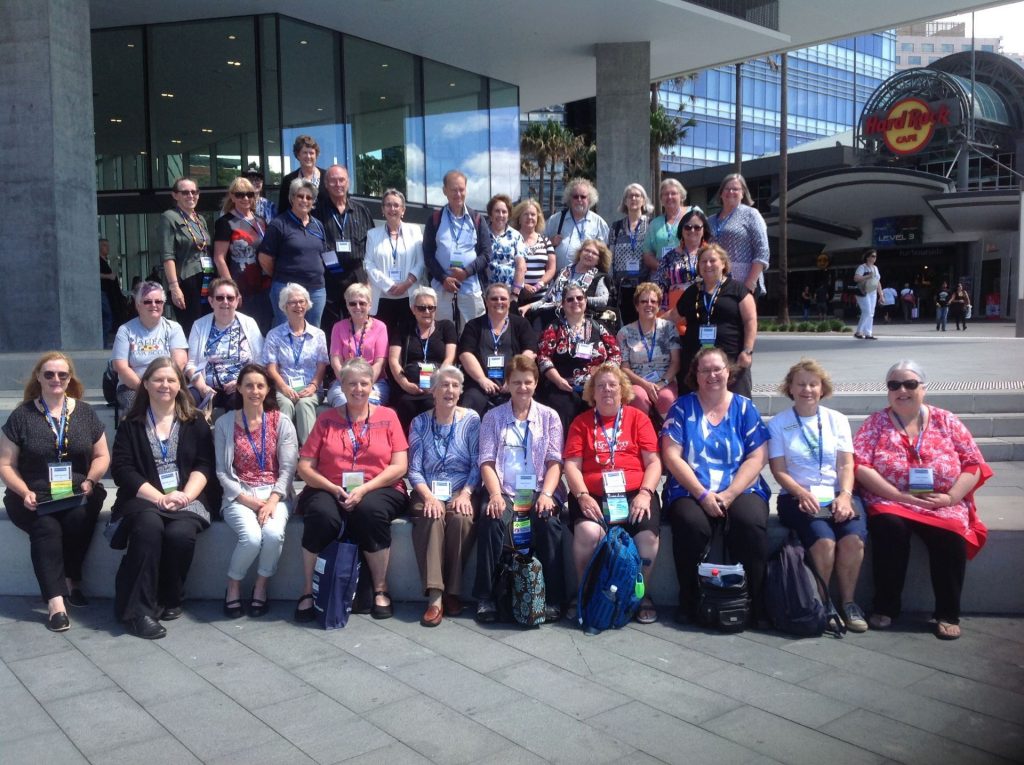 Long day starting with a 20 minute walk to breakfast at a fast food place. All this walking to and from Congress is going to keep me fit.
Picked up my bag of goodies, including the important program. Planned my day using the booklet rather than fiddling around with the ipad. Headed to Cockle Bay Room where all the sessions I wanted to attend were going to be held.
A great day of family history also included our photo session on the steps of the International Conference Centre for the UTAS contingent, Sorry a few missed out but Lis is going to photoshop them in at a later date.
Sessions I attended today
Tarting up my blog with Jill Ball @geniaus
I felt my family history blog was doing quite well except I don't have a header relating to my blog title.  It can be very difficult to find headers that are creative commons relating to the purpose of my blog. Might need to do a bit more research on this – would love to find one with old time ships from the early 1800s sailing across the oceans.
My navigation bar helps with things that wont change such as how to comment, reason for the blog and a bit about me. The sources from the Diploma of  Family History may be added to by either me or through comments from my readers.
My readers can use the tags or categories or archives to find posts relating to their interests but maybe I need to include a basic search widget. I have also needed to add one of these to my student blogging challenge blog.
My audience for my blog are mainly family or those students who have taken part in the UTAS Diploma of Family History. I advertise the new posts in the relevant Facebook groups for DipFamHist but rarely use Twitter or Pinterest, so I haven't included any social media links on the blog.
Thanks Jill for a great session
Searching at the NAA with Judith Paterson, Rachel Cullen and Paivi Lindsay
I am so used to just doing a record search or passenger search that I may have missed other records held at the National Archives Australia. We learnt about how records were categorized and how knowing an agency or government department where your records might be, can help you find those unusual resources. Using advanced search and then searching by agency, series and items rather than a general name search. Might need to see if I can find more about my step grandfather Mikolaj Hrydziuszko other than his naturalization certificate.
Loved the way they used an example of one person and showed how they found documents as well as audio visuals and images relating to their research person.
Traversing TROVE with Cheney Brew
This was interesting in that I usually only use the newspapers in Trove but there are so many other records held at the National Library of Australia that can be accessed through Trove. Might need to check out some of their other sources. The other UTAS students sitting near me when we saw the video made about one of the research people, said it was like the annotated maps we did for the Diploma.
Convict records in VDL, NSW and WA with Dianne Snowden
Dianne did  a great job summarising all the convict records in these three states. As a convict researcher, you need to know the name of your convict, ship he came on and when and where he was sent to as there are differing records in each of the three states. One person in the audience was lucky enough to have a convict from each state –  Jacqui Brock from our UTAS group.
Many convict records are now appearing on Ancestry and FamilySearch but remember to check the National Library of Australia where they have links to convict records around Australia.