Yesterday, as part of the WikiTree Connectathon, I was adding siblings to my great great grandfather John Davey. He was born in Devon in 1834 and came to Tasmania as a free settler in 1855. He had 11 siblings – Thomas born in 1828 and dying young through to Michael born in 1854.
While adding those siblings I came across George born in 1851 who had emigrated to New Zealand in the 1870's. His first wife was Margaret Collins from Wales and they married in 1878 and had 4 sons, two of whom died soon after birth. The other two sons were Joseph and Arthur. George also had 6 sons and 1 daughter with his second wife. Two of these sons also died as infants.
As part of adding profiles on the WikiTree Connectathon, you have to include sources, so naturally I headed to PapersPast, which is the New Zealand equivalent to Trove here in Australia. While searching for George Davey, I came across a mention of Arthur as a soldier.
Arthur's life as a child
He was first mentioned in January 1889 as attending St Saviours Sunday School with his older brother Joseph. Both boys were often awarded prizes at this Sunday School.
At age 10 at the Temuka District High School awards night, Arthur won a special prize for spelling.
In January 1893, Arthur, aged 12, was involved in a court session after his younger half brother Frank was assaulted.
Arthur as an adult
By 1903, aged 22, Arthur had purchased a coaching business. His father George was also a carrier in the Temuka district.
In November 1907, Arthur was accused of a breach of peace by picking up a passenger without the appropriate license.
Three years later, Arthur was part of a group purchasing land under the Land Settlement Finance Act of 1909.
January 1916 and Arthur's brother Frank has returned wounded from WWI and will arrive February 6
April 1916 shows a write up about the sons of George Davey who have enlisted.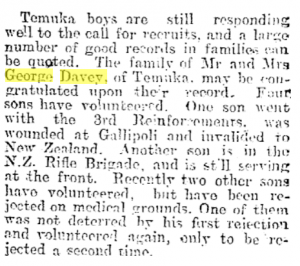 By October 1916, Arthur's youngest brother Stanley Edward had also become a casualty of war dying in September.
In January 1917, Arthur leaves for active service and has requested a clearing sale. More details on what was to be sold are listed on another advertisement. He has until March to settle his affairs.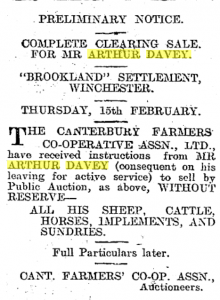 June 1917 and Arthur was back home at Temuka for his final leave. He was having a great evening with family and friends.
October 1917 and Charles, Arthur's second youngest brother was also called up to serve.
Arthur's father, George, received notice his son had been injured and was in a French hospital in December 1917.
This newspaper article will gave me details I could use to research Arthur's war records.
Arthur spent time first in Christchurch hospital and is now able to use a wheelchair.
By May 1918, Arthur was back in New Zealand but on his way to a hospital near his parents.
Is this Arthur offering to make and repair baskets?
In May 1923, Arthur's father suggested a special ceremony at Temuka for relatives of those who died in war.
By 1924, Arthur must have been back farming as he was part of a group who owned 1600 sheep which had recently been shorn.
January 1927 sees the passing of George's second wife Maria Jane. She had brought up Arthur as if he was her own son.
Arthur's father passes in 1939 and has a fantastic obituary in the local paper.
In 1942 Arthur sells the property owned by his father and has a clearing sale advertised with the noted items to be sold.
I will write another post about all the sons of George who enlisted in the New Zealand military to fight in World War One after I research their war service.