There were so many choices for this letter:
Christmas traditions, convicts, certificates
But I chose two that were more specific to my research.
Cemetery at Cockle Creek near Catamaran
Many of you know I have been researching my whaling captain, William SMITH. But this post is more about his wife's family. Sarah Ann TEDMAN and her sister Rosetta Caroline Tedman married on the same day, one to William Smith and the other to Domingo Jose EVORALL.
The marriage took place on September 30, 1874 in Burnett Street, Hobart Town, under the rites of the Congregationalists. Witnesses to the marriages were William Tedman, William John Tedman and Mary Ann Tedman. They all made their mark on the license.
Both William Smith and Domingo were mariners of full age and bachelors who could write their own names, while Sarah Ann age 19 could not and left her mark instead; her sister age 17 could write her own name. Both girls were daughters of a splitter.
Now that you know the closeness of these two families you will see my reason for choosing these words for this week's letter.
My grandmother on the Smith side had property left to her at Cockle Creek and we would often go down to camp there when I was younger. We knew there was a cemetery in among the sand dunes but had never really looked at it until I started doing the family history. It was then we found the following graves. These are the before and after shots from a day of clearing around the graves.
The three graves with headstones belong to William Tedman and Mary Ann Tedman and John Edward Louis Evorall. We don't know who the other grave spots are for as there were no headstones or footstones to give us clues.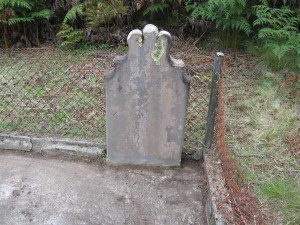 Readers: Please leave a comment about my post or something beginning with C that relates to your family history or your research.