As soon as I saw this prompt from #52ancestors, I knew who this post was going to be about.
Two groups of people arrived in Van Diemens Land in the 1800s – convicts and free settlers which included military. The government in Great Britain at that time was great for record keeping, at least for the convicts. From the time of their trial, through transportation, their offences, who they worked for, their freedom and any offences after freedom.
But it was a different story for the free settlers – you will get a ship passenger record, BDM records then if they did something worth recording it might be in a newspaper.
So the background to my John Davey and how the census fits into the story.
Like all good genealogists, you always start with yourself and work backwards generation by generation. My maternal grandmother was a Davey, her father George Davey and his father John Davey – my problem free settler.
John Davey died aged 55 on 26 December 1888 of jaundice.[1] He left no will but his wife Annie Davey (nee Dixon) took on the administration of his estate and chattels etc. In her letter to the Supreme Court of Tasmania, she believed that the cost of his estate did not exceed 687 pounds. Two of her sons, George and William John, helped organize an inventory of the property of her deceased husband.[2]
John Davey and Annie Dixon were married at the Manse at Evandale, Tasmania on 18 July 1859. John was a bachelor aged 26 while Anne was a spinster aged 18. Witnesses to the marriage were Hannah Dixon and William Costley.[3]
Over the next 29 years until John died, the couple raised seven sons and five daughters to adulthood. They lived in English Town, near Evandale, Tasmania. The photos show the house and the newspapered walls inside the house as taken in 1987. At least two generations lived in this house including my grandmother.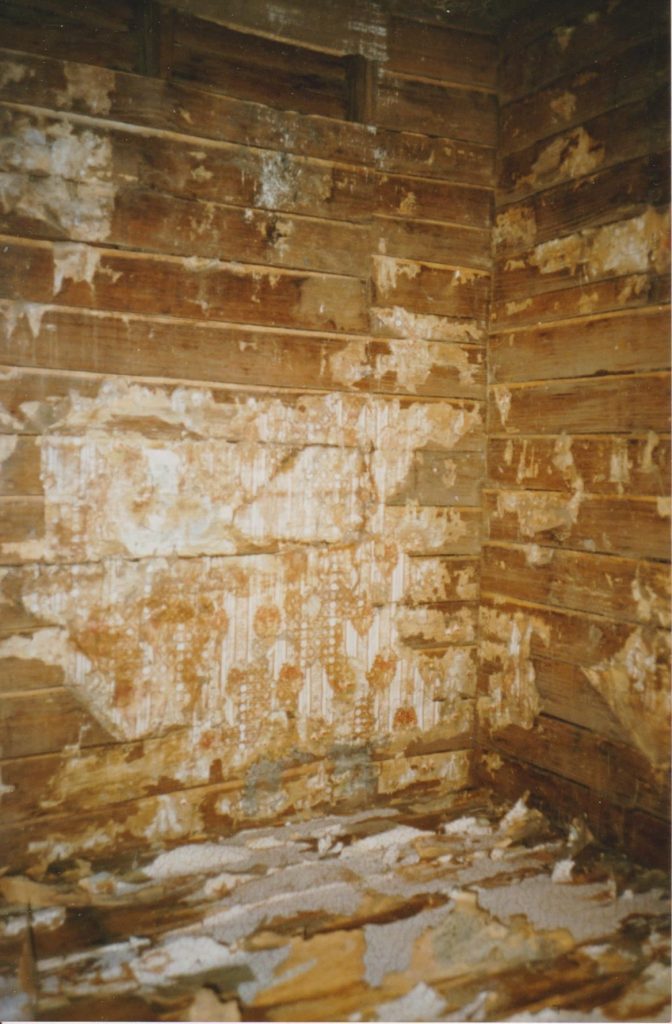 So far we have a death record showing John born around 1833, a marriage record also showing born around 1833 but we don't have a birth record anywhere. My cousins in New Zealand have a birthday book owned originally by Hannah Selina Davey, daughter of John and in it is mentioned the date 21 January 1834 as the birth of John. But how to prove this and where was John born?
There was no marriage permission found in the Tasmanian Archives and Heritage Office records so neither John nor Anne were convicts at the time of their marriage.  With the last Tasmanian convicts arriving in 1853 when John would have been about 20 and the shortest sentence being 7 years, this means if John had been a convict he would have arrived in the 1850s. Searching the records, no John appears. Hence he must have been a free settler or born in Tasmania.
Next I searched the arrivals index for John Davey or Davy – 3 were there – one in 1833 so I could rule him out, one in 1855 and the other Davy in 1856. As my John had always used an 'e' in his surname, I looked into this person arriving in 1855 as my great great grandfather.
This John was born in Devon, England. He was brought out to Tasmania as a farm servant to George Meredith on the East Coast of Tasmania.  John was Church of England and could read and write. He arrived in Hobart Town on 13 February 1855 on board 'Wanderer'.[4]  John was occasionally mentioned in the 'Meredith papers' which are housed in the State Library Archives in Hobart.  He was recorded last at 'Cambria' in January 1857.  His wages at this time were 7 pounds and 10 shillings per quarter.[5]
This is where the census now comes into my story.
Looking at the 1851 English Census there were over 50 possible John Davey born around 1834. This did not include any name variations. How was I going to narrow it down? I began this research back in 1990 while on holiday in England and spent hours at the Devon Record Office checking out marriages and deaths between 1851 and 1855 when John came to Tasmania. This was mainly using microfilm, microfiche and books. Since that visit and using online records, I have narrowed it to a possible 8.
I still have more research to really verify my John Davey BUT:
Four are sons of a family, one is a nephew and three are servants – a farm servant, a house servant and an ag lab.
On the shipping record, my John was a farm servant – so maybe I have narrowed it down to one now.
This John Davey who was a farm servant was aged 17 in the 1851 census. His birth place was Collumpton, Devon. He was working for Humphrey Pitts at Garlanshayes, Tiverton, Devon.[6]
Maybe the modern technology of DNA will help me narrow my search even further. My mother has two pages of matches with Devon in the birth location but with the surname of Davey in the tree, only 8 matches and I already know where they fit on my tree. Maybe when more people add their trees, I might find that elusive John Davey in Devon.
Sources:
[1] Death records, RGD35/1/57 no 227, Tasmanian Names Index
[2] Wills, AD961/1/7/1599 p 665, Tasmanian Names Index
[3] Marriage records, RGD37/1/18 no 712, Tasmanian Names Index
[4] Shipping records, CB7/12/1/3 Book4 pp 152/153, Tasmanian Names Index
[5] Meredith papers,  NS 123/1/69,  TAHO
[6] 1851 English census, HO/107/1888, Folio 138, page 4 FHL film:0221038
Readers: How have you found the records of free settlers compared to convicts in your family? How has a census or muster or electoral roll helped in your research?