As a family, we would rarely stay at home over the weekends. The weekend was a time to get out in nature and away from the house.
We would go on picnics with other close relatives or go bushwalking with other friends.
But school holidays meant spending a week or so camping with family or friends. There were two favourite places we'd go:
The caravan park at Mersey Bluff at Devonport where we would stay in a caravan and tent and take day trips around the North West coast of Tasmania visiting waterfalls, beaches and National Parks.
Camping on a property near the mouth of the Douglas River on the east coast of Tasmania.
Nowadays, at the Douglas River, there is an actual camping area which can be fairly full during school holidays. No fires allowed and a chemical toilet needed if camping. There are also cabins to stay in.
But when we were there back in the 1960s, we would often be the only people camping in the area. That's because it was private property but dad knew the owner and got permission to camp on the banks of the river. We would have to dig our toilet, set up the fire for cooking as well as the tents for sleeping.
There was always lots of things to do at the Douglas.
Paddling a large canoe dad had built based on canoes Olegas Truchanas made for using on his travels
Swinging off the ropes over the swimming holes in the river
Fishing for flounder on the beach at night
Long walks on the beach
Searching the coal mines at Seymour north of the river
Walking in the Douglas Apsley national park
Playing cricket on the beach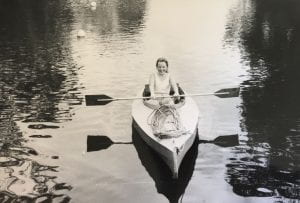 Sue practising her canoeing skills
Cousin Leigh in the canoe while dad swings with the ropes at the waterhole
Readers: Did you go camping as a family? Where was your favourite spot?