Was reading the feed in my Facebook groups and came across an interesting post in Louise Coakley's private group about Using DNA for Genealogy in Australia and New Zealand. PS Remember to answer questions if requesting to join.
As I have many trees on Ancestry.com, I thought I would check out some of these posts about an in depth guide to Ancestry. There are 11 parts to this guide so far and the first one was about trees.
My trees
I have 7 trees I am owner of on Ancestry. My main tree is Wyatt family tree and that is where I add in all my matches as I work out where they are in my tree. So I use matches from myself, but also my mother, father and brother.
Because I had no idea of my father's side of the tree until recently, I also began one labelled DNA Wyatt Dad Kevin. This is a lot of mirror trees based on dad and his half brother Kevin's common matches to try and work out where they all intercept. But I wont be using this much now as I have now got dad's side of the tree back a few more generations since a new close DNA match appeared a few weeks ago. This tree is private and not searchable.
When I was trying to work on dad's DNA and whether he had Samoan ancestry, I asked a couple of his Smith cousins to test and I created trees to match them as well. I don't add to these unless DNA matches ask for information through the messaging system. By the way, no Samoan and these are now half cousins as well.
I have done the same for a few of mum's cousins who have tested at my request, so I have 3 trees created for them. Two are public and linked to DNA tests, one has now been made private but searchable as the person has now died who did the test for me.
Next step
So I went into my DNA matches list to see what the trees were like for my matches. I only looked at those up to and including 4th-6th cousin.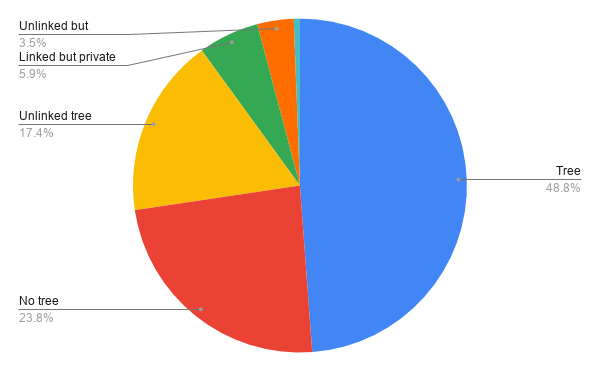 Out of 340 matches I checked
nearly 50 % have a linked tree I can look at, but some of them may only have a few names of parents or grandparents or might even all be labelled 'Living'.
nearly a quarter of my matches have no tree at all but if they are high up in my matches I might still be able to work out where they fit on my tree. In fact, I have worked out 9 of the 81 matches that have no tree.
an unlinked tree just means the owner of the tree hasn't linked their DNA to the tree yet. I have 59 unlinked and 12 that are unlinked but also private. From those 71 matches, I have worked out how 6 of them link into my tree.
out of the 20 linked but private trees, I have 4 with common ancestor mentioned and I have proven these to be connected correctly to my tree.
I also have two that say the tree is unavailable but clicking on those words takes me to their page and a tree I can click on. One I have matched and is added on my tree, the other I have a good idea where it links but not proven yet.
As I mainly work on my parents DNA match lists, I probably have, in reality, a lot more matches added to my tree than I have from my match list. As I work out where the person fits in my tree, I add this in the note section of their profile page. As my parents are one further generation closer to the ancestors, I usually add these notes on their matches rather than mine.
From this image you can see I know where the person fits in my tree (the orange star), they fit into three family lines on my mother's side and the ancestor couple we have in common is George and Martha Davey nee Colgrave.
Readers: If you have a tree on Ancestry, does it have your DNA linked to your name on the tree? Is your tree public, or private? If private is it also searchable? Do you use the notes section and the colour coding for your matches?