Since Covid began I haven't travelled very far from my home. I have been as far north as New Norfolk, Pontville and east to Orford. So on Monday, I decided to take off for a longer drive to Evandale which is near Launceston in northern Tasmania.
A trip generally about two hours was at least half an hour longer due to road works. Some might have related to flooding in the Midlands and along the South Esk River last year but most was part of the improvement of the Midlands highway.
Arriving in Evandale just after 11am I headed to the information centre where I knew they have a history room for researching families of the district. My main reason for going to Evandale was the folders I am putting together relating to the different ancestral families I have who began their Tasmanian lives in the Evandale municipality. I wanted to know whether they would like these folders to keep in their history room once I have finished them. No good me doing all the work only to find they don't want the folders.
A volunteer at the centre contacted Barry Lawson who is the president of the Evandale History Society Inc. Barry was down at the National Trust building Clarendon doing some gardening as a volunteer and wouldn't be back in Evandale till mid afternoon.
I wanted to visit the townships or areas where my ancestors had lived and Clarendon was near Deddington, so I said I would drive down there to talk to Barry during his lunch break or morning tea. We had about 30 minutes chatting and I found they would love to have anything related to families in the district but they are gradually trying to digitize everything rather than having lots of paperwork. So I think I might have to include a USB with lots of PDFs of the information I have on my families as well as giving them the folders.
Now it was time to visit Deddington, English Town and Blessington, the main areas where the Davey and Colgrave families lived.
1: Evandale was originally a military outpost. It has had a variety of names including Morven and Paterson Plains. It is on the banks of the South Esk River and in 1836 they were going to tunnel through a hill at Evandale to supply water to Launceston but this idea was abandoned. Nowadays the town is known for the penny farthing races, their Christmas decoration shop (my niece wondered why I didn't stop off there too) and art galleries (my sister-in-law asked if I had visited the Archibald prize winning displays or maybe it was the Glover prize?)
2: Clarendon is a National Trust property originally owned by James Cox and built in 1838. It was built by convicts but they were well treated and James was part of the group of people who wanted abolition of convict transportation in the late 1840s. He preferred bounty immigrants as they more often had the skills needed for developing a farm and property. One of my Davey ancestors – Emily Jane Davey married Trevor Cox at the Nile in 1914. Trevor was born at Clarendon in 1883 and his parents were another James Cox and Elizabeth Sarah Wilson Thirkell.
3: Nile is a very small village which has also changed names over time. Much of the land was owned by James Cox and he gave the land to develop Lymington as it was originally known. Many of the small cottages were built for his workers. Marion Sargent from the Launceston Historical Society, Tasmania wrote about the Nile and can be found on their Facebook group dated 17 March 2019. My picture below is of the WWI memorial and sign leading to St Peters Church.
4: Deddington is a small hamlet with just a few houses but it is the Nile Chapel which keeps it on the map. Apparently there are only two towns in the world named Deddington so people in each village have a combined website about Deddington. They include lots of images and history of both places with links to other pages. Deddington is also the closest town to the property of Patterdale where John Glover the famous artist lived. He is buried at the chapel.
5: English Town was way up in the hills below Ben Lomond. My relatives who lived there were mainly farmers or sawyers and sold wood to locals down in the valley. I expected to see the remains of buildings when I visited but the area is now a pine plantation with many roads closed off to the public. It was a very steep, winding road but out in the open, you could see great views over the area of Deddington. I mention a lot about English Town in my Susan Boyd biography. During extremely bad weather the road to English Town would be impassable because of the flooding of the Nile River. At the junction of English Town Road and Ragged Jack Road is Daveys Road. Not sure if that is named after my Davey ancestors or an R.A. Davey mentioned as a lessee in the area (don't know who this person is but maybe related to Thomas Davey who was in the Launceston area in the 1820s and 1830s)
The most common surnames in the English Town area were Colgrave, Davey, Lindsay, Tuck, Kaye, Robotham, Brown, Duff, Hamilton, Owen, Ryan and Hawkins. This can be found by using the app called TheList and using the topographic basemap then adding the layer of historic map and charts – Land District Chart.
6: Blessington is over the hill from English Town. This is where my Davey family lived and my grandmother was born. There is also an Upper Blessington further up the road. As you can see from the biographies I have researched, some records say they lived at English Town, others at Deddington and yet others say Blessington. Check the distance between from my mileage chart below. My dad was a telephone technician and we always looked out for telephone exchanges when we drove anywhere on holidays. So this photo is for dad. It was built on land originally owned by James Cox.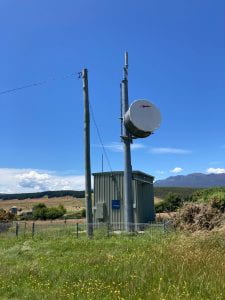 7: White Hills is where I turned off to head back to Evandale. There was a property near here called Curraghmore and this was where the Dixon family first settled. David was a shepherd for Mr Henry Stevenson. Henry had married in 1838 to Elizabeth Lette who owned her own property in the district.
So once back in Evandale, I revisited the information centre to thank the volunteer who had set me on my journey. I then headed home via the Nile Road which meant I didn't have so much road work to worry about. I also wanted to check out what the roadkill was like on this particular road as I had often seen dead wombats and wallabies. This time the road was virtually clear.
My Mileage on this trip
Home to Evandale via Mud Walls Road – 172km
Evandale to Clarendon – 11
Clarendon to Deddington – 12
Deddington to English Town turnoff – 7
Turnoff to English Town and return – 20
Turnoff to Blessington – 10
Blessington to White Hills – 21
White Hills to Evandale – 10
Evandale to home via Nile Road and Mud Walls – 177
Total : 440km of which 49 was gravel road
Readers: What interesting journey have you done during Covid?