My story will be done in photos.
Brownie uniform in the 1960's with friend Charmaine
Planting rose at opening of Glenorchy Council Chambers Civic Square
Badge presentation by Jean Goodman, Glenorchy area Commissioner, whilst at camp
Presentation of Queen's Guide badge by Joan McKay, Regional Commissioner
Presentation of Queen's Guides at Government House

Joining Langana Ranger Guides on the eastern shore of Hobart
Lindisfarne guiding friends at airport ready to send me overseas to either Hong Kong or Fiji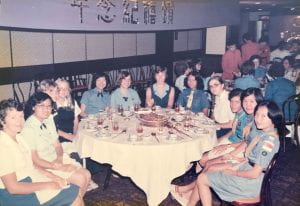 Special evening meal at Hong Kong camp
Invite to meet Prince of Wales, now King Charles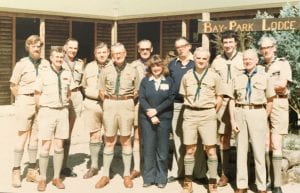 Taking part in JOTA (Jamboree on the air) conference in Victoria
Presentation of Banksia Award for work around Australia with JOTA
Leader at Ranger Guide and Venturer camps working on amateur radio station
I had a fantastic time as a Brownie, Guide, Ranger Leader and JOTA organizer from 14 June 1964 when I joined 1st Glenorchy Brownie Pack until 27 April 2001 when I was given the Banksia Award. Lots of camps at Betty Beaumont's at Molesworth, also at Oyster Cove before it burned down then at Orana at Roches Beach. Lots of bushwalking and learning how to track animals, cook over campfires (those eggs in orange skins and banana and chocolate cooked in the coals. Also loving the singalongs around the campfires.
Readers: Were you ever a Queen's Guide or Scout? Did you represent you unit or pack at a special event in your area?