We had our regular tweeters but also joined by a few more who had specific information relating to this week's topic.
Occupations
Questions were: 
Share the resources and repositories that helped you discover ancestors' occupations and put their work & life in context?
Tell us about an ancestor with an unusual or dangerous occupation, child labour or a now-uncommon job?
Are there occupations in your family that have passed down to the next generations?
What resources do you review to find out more on businesses & business owners, self employed or financially independent ancestors?
Format for the post will be resources to check out, then occupations relating to our ancestors and finally some questions about unusual occupations and where to find the answers.
Resources to find information relating to occupations and context in life
Directories and electoral rolls
Census records
Newspapers including advertisements, articles and family notices
Pre UK census try UK Register of Duties Paid for Apprentices' Indentures 1710-1811 (National Archives & Ancestry)
Public Record Offices for Government occupations
Birth, death and marriage records
Obituaries but as Sue said they are only as accurate as the informants knowledge – pioneers of the district could have been convicts in reality
Title Deeds to property owned list the occupation of owners
Apprentice records
Military records
Wills and probate records
1939 register
UK Merchant Navy records: Register of Seamen at TNA or on FMP, Seamen's tickets, Voyage details for crew lists.
Academic journals (JSTOR) through the National Library of Australia
Gale newspaper access for occupation background and risks of jobs.
Books, books, books and reading
Regional Archives
Regional and local family history society newsletters
Guild records from apprentice to master
Immigration passenger lists
Council Records
Employment lists for businesses
Lately bankruptcy records have been adding lots to research on employers.
Specific links
Personal responses
Angela: Census records that revealed I am descended from a 'Herd' and a 'Brush' . (I kid you not)
Fran: My Cornish miners jobs could be dangerous. The average age of death was 28th years and 4 months. So young.
Pauleen: My dad was a numbertaker – say what, an undertaker? Nope, a numbertaker or tally clerk working with freight distribution in the railway shunting yards. Not quite as dangerous as shunting but still very hazardous.
Sharn: The most dangerous occupation my ancestors had was MINING. I discovered a g g uncle was killed in a mining accident 'killed by an explosion of fie damp' on the Scottish Mining Website.
Jane: My ancestors all seem to have fairly standard occupations … Farmers, agricultural labourers, domestic servants, Bricklayers and other tradesmen … Although I do have a rat catcher!
Hilary: my husband's grandfather died after a fall working in an Ironstone quarry; my gt uncle was killed whilst working in the docks a cargo fell on him
Allie: I have lots of newspaper compositors and handloom weavers in my family, not unusual at the time but definitely rare today. Not aware of any work accidents, but I'm sure much of the work my ancestors did was dangerous or hazardous to health in the long term.
Sue: My Great great grandmothers sister married RG Winters who was a pianoforte maker. Married in England, migrated to Tasmania, Had a pianoforte factory in Elizabeth Street Hobart
ANZ: And quarry workers and stonemasons often had lung diseases….this asbestosis. Occupations were so hazardous before OH&S awareness but there are still random injuries.
Seonaid: A lot of my ancestors were ag labs, carpenters, navy or army, cab drivers, fruit and veg sales. I do have a female ancestor who took over her husband's butchery business when he died. Although I expect that's not unusual.
Pauleen: Generations ago I had miners in Northumberland – another dangerous occupation with the possibility of child labour though I've found none
Sue: I have three brothers, one my great grandfather, who survived the 1912 Mt Lyell mining disaster
ANZ: Who remembers when the rat catchers from the council would come round with their fox terriers checking for rats when people still had backyard dunnies?
Fiona: Inspector of Nuisances in a clients family. Image of one here.
Jennifer: My friend's ancestor worked in a tiny building in the forest in Belgium checking undetonated bombs
OPS: Earlier this year our response to the A-Z Blogging Challenge featured contributions from members on a range of occupations, including Apple Crusher, Dominatrix, Jester, Number Taker, Pig-jobber and Tabernarius!
Dara: My GG-grandfather was a coachman, a servant in a big house. I love the idea of him hitching up the horses and strolling, or racing, through the streets, taking his master to where-ever. Probably my imagination pictures a more romantic version of his job.
Jill: Husband's ancestor, Francis Jollie Gowans, was appointed Honorary Surgeon to the King in 1937
Mining the Past: One of the next door neighbours to my miner ancestor was a pit pony driver, aged 13.  My family were miners right up until my maternal grandfather. He suffered from miners lung and had to stop hewing. He was elected pithead weighman on behalf of the miners ie checking the company weighman was weighing the coal accurately so they got paid fairly.
Sue: My great great grandfather had a fairly easy life as head gardener to the Governor of Tasmania in the 1860s and 1870s. Lots of write ups in paper about winning competitions etc
Sue: My other great great grandfather (before he was proved by DNA not to be mine) was a whaling captain and many of his descendants still keep jobs to do with water
Seonaid: Navy & army were pretty regular patterns in my family on both sides. My 3xgr gfather & 2x gr gfather were paper stainers. Found a wallpaper factory near where they lived. I do wonder how 1 ancestor went from a candle & soap worker to planemaker in 10 years.
Angela: have generations of railway workers …porters, station masters. Wonderful that their homes are listed in the National Inventory of Architectural Heritage
Sharn: I have used newspaper advertisements and calls tender to find the buildings, houses and rail carriages a gg grandfather constructed in Sydney NSW
Jennifer: Have found business ads on Trove, Wills, Rate books
Pauleen: Court cases can tell you where someone was and who they knew. My George Kunkel was called as a witness to an equity case revealing he was a pork butcher on the gold fields at Tooloom, NSW, travelling from Ipswich Qld.
Q4 Local History Groups often have collections of photographs. I found this one of my g grandmother and her sister who ran a private hospital in Cooroy in the 1920's at Pomona LHS> #ANZAncestryTime pic.twitter.com/eFxLbVJ0ox

— Sharn White (@SharnWhite) November 17, 2020
Brooke: When reading census records this list of old English occupations may come in handy. Researching the COLLIDGE family, I came across the occupation CLICKER; someone who worked in the shoe trade cutting out the lowers.
Sophie: One of the things I've been struck by in preparing the Occupations tweet series is what a range of dreadful health hazards were associated with so many jobs in yesteryear – hand planking one example
Dara: I struggle to find much information concerning many ancestors' occupations, that is specific to their own job, other than on BMDs. Trade directories help for some tradesmen.
Pauleen: I found references to my carpenter ancestor in Ipswich burial registers. Fires, flood and disasters can bring up news stories of how my self-employed ancestors were impacted
Fran: Thinking you need to verify the occupations. On the first property we purchased the bank wrote "wife" for me and Stephen made them change it to "Product Manager" so like all sources – CHECK
Carmel: The back of directories for business advertisers
Jennifer: I do have a few ancestors who stated their occupation as 'gentleman'. Wishful thinking I'm sure
Fran: On passenger lists I have found a number of ancestors occupations. It's good for people that travelled often as you can see changes in roles, promotions, etc
Dara: Funnily enough, when my GGG-grandfather, who left Ireland a plasterer, became a successful building contractor in Australia, he claimed he was a Gentleman on some records.
Mining the Past: I have an ancestor in Gateshead who worked at the 'railway staithes'. From maps identified as Dunston Staithes, the largest existing wooden structure in Europe and a visitor attraction!! Guess where I'll be visiting next UK trip 🙂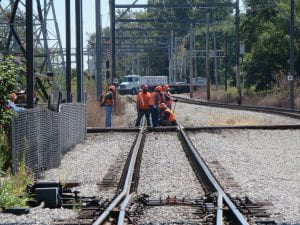 Society of OPS: The Gazette is another great source of business / company info for the UK
Fiona: Check @ArchivesNZ for files on the stations. Have been looking at these in the last week and have found house plans for the houses being rented and sold at the end of their use by railways.
Allie: Mostly censuses and vital records. Otherwise I've found a few newspaper reports and adverts that have mentioned employers or business locations, and I've also used street and business directories. FindMyPast is good for trade union records
Occupations often passed down through the generations included:
shoemakers, gardeners, coachmen, schoolmasters, coal miners, ag labs, merchant marines, weavers, lacemakers, railway workers, butchers, blacksmithing, tailor, pipers, compositors, watchmakers
Things to follow up on: videos, other twitter chats, competition
Today will be of interest to @

OnePlaceStudies

members engaged in our 2020 Shared Endeavour of Employment and Occupations in our

#

OnePlaceStudies

!
Videos to check out from OPS , the twitter chat from the OPS Conference 2020 including occupations
Dr Sophie Kay has an Occupation of the day twitter hashtag. Follow it here and learn more about unusual occupations.
Also from Dr Sophie Kay: just a little heads-up for those of you who enjoy competitions: keep an eye out for a Twitter/blog announcement from me next month, as I'll be running a little Xmas Quiz competition themed around the

#

OccupationOfTheDay

strand!
Readers: Check out the OccupationOfTheDay hashtag to find out the answers to these unusual occupations.
Jacker off, Keel Fleeter, Equilibrist or Knife shaver