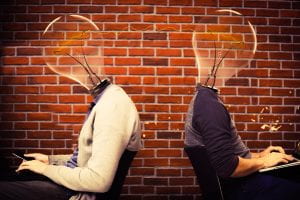 William Jackson both senior and junior are a couple of my brickwalls.
Background to the problem
Rebecca Jackson was sentenced to seven years transportation on 1 January 1847 at the petty sessions court at Lifford in County Donegal. She was sentenced with three other members of her family: her father William, her younger brother William and Jane Steele (not known yet if she is related).
Anne Jackson, yet another member of the family but still not proven how related, was also a member of the Jackson gang who had been stealing for many years in the Carrigans area of  County Donegal. But on 1 January 1847, she turned on the gang and dobbed them in to the authorities.
Three cases were reported on that day:
Anne Jackson of Garsney??? and John Craig of Corneamble  a(gainst) William Jackson the Elder and Jane Steel both of Garsney
Anne Jackson of Garsney and Anthony Gallagher of Ruskey? a(gainst) William Jackson the Elder, William Jackson the Younger, Rebecca Jackson, Jane Steele and Mary Jane Gallagher
Anne Jackson, Caldwell Motherwell of Monglass, sub constable James Love?, Nelly Jackson of St Johnston and Joseph Wray of Curry free? County Derry a(gainst) William Jackson the Elder, William Jackson the Younger, Rebecca Jackson, Jane Steele and Mary Jane Gallagher
Remember this is the time of the potato famine in Ireland, so was William and his family stealing just so they could eat and survive? What would happen to the rest of the family once they were convicted and sent to prison or transported to Van Diemens Land?
But this is where the brickwall occurs…
This is the information about William Senior in the Irish transportation database
William Junior was aged 13 and had the same document reference as his father. Rebecca was aged 16 and Jane Steele aged 53. Both their document references were TR 6 p 256.
Rebecca and Jane (plus two children named Mary Jane and John Gallagher) arrived in Van Diemens Land on board the ship Waverley in July 1847 after spending time from 13 February 1847 at Grangegorman prison in Dublin.
But where were the Williams?
I checked the Irish prison registers on Find My Past and can find no William Jackson at all. But I did read that Irish male transportation to VDL was stopped for a few years so where could the two William Jacksons have been in Ireland before they were transported? Or perhaps they weren't transported at all?
I have checked all the William Jackson arriving in VDL (Tasmania) since 1847 and none match with my Williams.
Have checked the website Digital Panopticon and no William Jackson with similar circumstances.
Checked convicts of New South Wales post 1847 and two possibles with info found at convict records website
William Jackson on ship Hashemy in 1848: 2 convicts – Warwick Boro' of Birmingham Quarter Sessions and Lancaster Boro' of Manchester Quarter Sessions
William Jackson on ship Hashemy in 1850 to Western Australia: tried Somerset. Assizes at Taunton
William Jackson on ship Randolph in 1849: tried Middlesex. Clerkenwell General Sessions
So where are my William Jackson's hiding in Ireland after 1847?