The theme for the month of January is FOUNDATIONS.
To me the foundations in family history are the building blocks of your life. That means family and home.
Our first family home was at 6 Brent Street in Glenorchy, a northern suburb of Hobart at that time but since then it has become a city in its own right.
The home originally belonged to our Uncle Harry (Harry Avery who was dad's foster father). Harry bought it after his mother passed in 1952 and he and dad lived there.
Dad's memories of this time:
I remember that Harry let me drive his utility when we went to look at the house there and as we left I backed into a Hydro pole. Fortunately it was only a slight bump with very little damage.
After dad married my mum, it then became our family home.
It was here that my brother, Philip, and I spent our childhood years along with our parents, Bob and Phyl.
Memories of happenings while living at Brent Street:
We lived within walking distance of our local shop and not far from the school we both attended
There was plenty of room to play in and grass in the backyard to pitch a tent on to sleep overnight if we wanted
Room for pets but we only ever had a canary. Sadly he passed away when we were on a holiday around Tasmania
Playing board games and doing jigsaw puzzles in the lounge room
Long bike rides with our school friends – home to the Botanical Gardens then contact parents when we got there safely and ring again when we were about to leave to come home
Birthday parties with lots of school friends
Outdoor toilet – just over the passageway from the back door
Being sent to our rooms when we had done something wrong – I'd read my book so not much of a punishment
Drawing on the outside of the house then having to clean it off
Lots of bottles along the fence line – fundraising for the Glenorchy Girl Guides and Brownies
As a Brownie, planting rose bush at opening of Glenorchy Council chambers
Learning to cook evening meals if mum wasn't home
Family holidays to Devonport, St Helens  and Douglas River – canoeing in canoe dad built
Bush walking and camping  around Tasmania as a family
Three months travelling around Australia as a family with mum's sister Margaret and her family
Lots of family visiting for birthdays and Christmas – Mum's family were all very close
Visiting Bathurst Street Telephone exchange where dad worked
Travelling on the Tasman Limited train with uncle Fred, delivering the mail
Sunday school each week and choir
Philip at the YMCA
The foundations of my life learnt as a child included being independent, being part of a family as well as groups like Guides and YMCA, having hobbies, consequences of actions, enjoying life as a family and also with friends.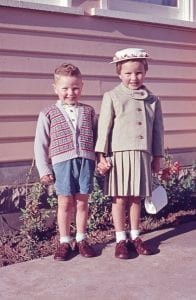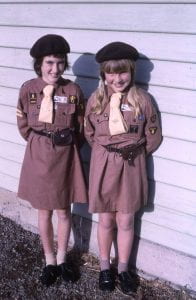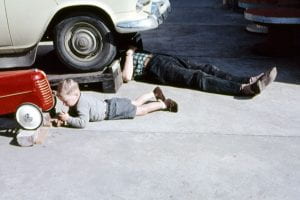 Readers: What would you write about for the topic of foundations?