This week in late July, members of the #ANZAncestryTime chat were looking at churches and parishes. What records can you find there?
Why are Church or parish records an important resource for family history? What information can we find in them and how can they fill the gaps in our family history?
And then there's the release of the Irish Catholic parish registers which have made it possible to analyse and collate families in a village.
Who has used Church Archives for their in-person research? They tend to be sadly overlooked.

They are not always accessible in Ireland but I have used the @rcblibrary many times for Church of Ireland records.

I find in Oz that some archivist will happily cite privacy legislation for something from the mid 19th century. It frustrates me that this is #pioneerhistory missing.

What a pain! I have had some diocesan archives give me a line about people maybe still being alive. The people in question had married in 1920, so I thought it was unlikely.

well I have written to a few parish priests over the years asking them to look at marriage records because I can't find any in civil registration in Australia.
I visited ancestral churches when last in England and found ancestors named as Church wardens etc on a plaque on the wall of St Mary's Polstead, Suffolk going back to the 1600's. Quite moving
They fill in some gaps for people pre civil registration! They can bring you back that extra generation and give you names of the infants/bride/groom/deceased and parents names and witnesses, sponsors and much more!
When they are available, they give information on baptisms and marriages. Unfortunately, most of the records I want don't exist.
parish records have become very useful in conjunction with the earlier census in UK. Helps with maiden names and parents.
"Let me count the ways…" Richest incl. Parish census, parents' names (incl maiden names), address, witnesses' names addresses. At min, consanguinity, clues to ancestors' wealth, FAN and residence
They give the details of the parents, e.g. names, jobs, locations, the names/signatures of the witnesses and the signatures of the bride and groom.
I've been having great success tracking family through Catholic registers – the baptisms will list sponsors (godparents) who are often relatives, and mother's maiden name often appears too – goldmine of information!

Just recently, English – @findmypast have a whole heap of Southwark diocese records. In the past, some brickwalls busted with Scottish RC registers.

You never know, Pauleen! Some parents might have liked to hedge their bets – I found a significant number of Protestant parents (one P, or both) getting their children baptised Catholic in Glasgow mid-19th cent.
Back in the day I trawled all the microfilms for "my" overseas parishes. Amazing what's hidden in there well beyond one's own family.
Lots of info on parish records in counties and countries here genuki.org.uk
List of Online Parish Clerks familysearch.org/wiki/en/Online…
#ANZAncestryTime A1 this is an area of research in which I need to become more proficient. I attended a talk at QFHS years ago about the Parish Chest and it opened my eyes to exploring Family Search to hunt down things like Settlement Examinations and Removal Orders. pic.twitter.com/2Z6fW3i02i

— alex daw (@luvviealex) July 27, 2021

Removal orders can be quite confronting Alex. Thinking of your family as relying on parish welfare is hard

They can also provide a big clue to where someone may have originated

They get removed to the father's parish of settlement which was usually where he was born
German Church books often contain information beyond baptisms, marriages and burials and record confirmations and communions and family names
Church &parish records are important in my #familyhistory research as they are about significant events in the lives of my ancestors. The main places I find these records are at the genealogy giants.
They are local to where the event took place so might include FANs and extra info in the margins
Church records often pre-date civil records so can take our family history further back in time. Some Parish records contain personal details about people, things we might not otherwise find out.
What interesting or surprising information have you found in Church, Parish or other Religious records?
Saddest find was on the Cornwall OPS I found that Grace Seccomb was buried on 28 Sept 1835, the same day as her youngest baby was baptised. She had taken her own life being Felo de Se "Out of her mind."
Communion rolls can be found even in Australia eg the Presbyterian ones for Murphys Creek Qld are in a Toowoomba library.

always worth checking your library catalogue. You never know what you'll find.
Nothing that I can remember. I just wish the parishes I need to get records had them.
What looked like an infant baptism on transcription was revealed as an adult conversion from Presbyterian to RC. It helped link a branch of the family in & gave me a 'new' direct female ancestor's name.

oh yes – I had one of those – so helpful! Was able to confirm the research I'd done and advise descendants that their ancestor was not in fact a Yorkshire man but a farmer from Stillorgan, Co. Dublin 🙂  I'll be honest, this was an in-law to an ancillary line of my own but the names intrigued me and really helped to identify the family. I think his descendants were a little disappointed their origins weren't more "illustrious" 🙂
John Wesley wrote a medical book! Surprising, he has tried many of them himself, and adds background to how his followers amongst others might have treated various conditions. quod.lib.umich.edu/e/evans/N07727…
1840 parish census – that my 20C grandmother's birth place was once known as Dooleytown (her maiden name) and that my GGM's family (other line) were CofI andnot RC #ANZAncestryTime They've also confirmed suspected familial ties between families (consanguinity)
I also discovered(realised?) via English CofE that a genealogy of one of my family branches was incorrect – and identified the correct marriage of my 5/6 GGPs in Bucks and not Glos
One of my second great grandmothers used a different version of her first name for almost every certificate. After a while I realised this may have been intentional.
I suspected I had a great-aunt who was a nun in a particular order. I wrote to the order's archives and they sent me some fascinating material about her

There's an idea. I believe Dad had a cousin who was a nun. Where would I even start?

There is an archive for the School Sisters of Notre Dame or SSND. Most orders have an archive. First task is to identify the order.

Task 1 completed. In a family funeral notice The Nun (as Dad calls her) is named as Sister Mary Peter Claver. So she is of the order of St Peter Claver. Now to track down their archives in Australia.
One thing that we might not think of is the more broad items in a church – donated "in memoriam" gifts, signs, kneeling cassocks etc.
My gg grandmother donated a stained glass window for the local church, so has her name below it. Women donors on one side of church, men donors on the other!

Actually, Dad heard from visiting Irish priest that men and women used to sit on opposite sides of the church during Mass. Will have to consult some experts!

Also have never heard that. Afaik, people sat in family groups, but it's possible that earlier periods, it was more segregated

Probably back in ancient times! Was a Dublin priest from memory, so maybe different practices in rural areas
I believe even here in the 1910s-1920s the women were sometimes on different sides of the (RC) church. I'm told my grandfather would give other's kids a clip under the ear to behave. Gasp!
The memorial window in Surry Hills Sydney for the O'Brien families. #ANZAncestryTime pic.twitter.com/udm5ImyYho

— Pauleen Cass (@cassmob) July 27, 2021
Grenfell C of E stained glass window -Let Brotherly Love Continue" erected by my gg grandfather & his brother for another brother – always told as a kid "family is everything "
Sometimes Churches keep old weekly news letters or magazines that mention ancestors. It pays to visit and ask if you can

That's a very good point Sharn and reminds me that I got a very good insight into one of my cousins, a minister in Kentucky who seems to have been quite progressive through such a magazine. He had a jazz quartet playing in the chapel in the 1960s!

How fabulous Tara. My grandfather played the piano in Church (when my grandmother could get him there. ) My mother played the church organ ( I just sang in the choir)

good reminder about the vital roles our families play in church life.
It doesn't happen very often but some vicars kindly put the birth dates in the margins next to the date of baptism. So helpful.
I discovered to my surprise a church census for NBL- North Leith (I think) which included all sorts of warts and all comments on the local residents
From a settlement examination I discovered a bigamous marriage, military service and remarriage also birthplace and parentage of mother
I have had some success using church archives to find more general info about my grandfather's involvement in the Hibernian Society. More to do post-covid.
Plenty of goss to be found in Kirk session records – hoping to get some time to look through them for my Fife relatives
Using christenings can help when 2 couples with similar names in the same parish or area great if you are a one namer
Sometime children are christened but no birth is registered I thought this was true for my ancestor but she was registered with a different first name and used her christened name
I found 8 children in one family who were baptised on same day in Scotland. In Australian church records, I found a family of 4 children from same family baptised on same day.

Fifteen years ago I saw a family march seven children up to the altar and all were baptized including the Dad, too. Eight total. Catholic mass, Londonderry, New Hampshire, total immersion.

Yes – I've found a Sydney family baptised in batches of two at a time – I deduced that this branch was not overly religious! In the 1840's – Dad was a massive fan of vaccination – science over religion me thinks
A surprising benefit to me came from my church archive networks when this framed house blessing was offered to me.
I found out quite a bit about the health of my great-grandfather from the Portsmouth History Centre which identified an entry for him in the Portsea Island Workhouse register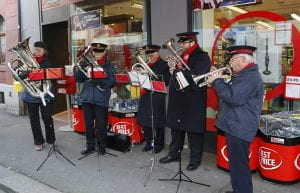 Which Church, Parish or other Religious records have you used and in which countries? What religions were they and did you find them easy to interpret?
OPR, Kirk Sessions on ScotlandsPeople. Church of Scotland. A few were not
I have only ever needed to find the English Parish records so no issues with interpreting them However about to do some local research which may need Welsh translating
Found most of this on Ancestry.com. Anglican Church records in Australia have been useful. I know some were Salvation Army, but haven't had much luck getting details there. Some of the Irish side were Catholics though not practising, I think.

do the Salvos have Archives? I suppose they must. I just haven't seen it written down anywhere.
US, Canada, England, Wales, Scotland, Ireland, S. Africa (none in ANZ so far). Yes, easy to interpret although I had to rely on my school French for some and a good map of Wales and a grounding in non-conformity/Methodism/Bible Christians for others!
@findmypast, @rootsireland, @NLIreland – those are the ones I know!
Yorkshire parish & bishops transcripts revealed lots for my Cordeaux/ Cordukes ancestors – pre 1800 in Crambe & a sibling record even had a 3 generation family tree – genealogy gold
I've used church baptisms and marriages in Ireland. They were Roman Catholic and they were easy to interpret as long as they didn't have the most abysmal handwriting…   (loved the ones that were in tables)

Some do have terrible handwriting don't they Daniel. Luckily My Irish Catholic family's Dublin baptisms were easy to read and a wonderful find

It made a nice change to use Jersey parish records- often copperplate and gorgeous
one rather unusual source for me were early Wesleyan administrative records in Hobart. I knew my printer ancestor had done work for them. Found payment vouchers and some more examples of his printing. Gold!
Don't forget Church events and ancestors were often advertised in newspapers so a place to start looking

These have been tremendously helpful. We had a DNA connection to some people we didn't know at all or didn't realise were family, and have found lots of family notices about who they knew in our family. Still haven't found the exact link, but getting closer.
I seem to have inherited a lot of family bibles with notes written in them which tell me which churches my ancestors attended.
I've used mostly Catholic registers in NZ, Ireland, England and Scotland, and CoE and CoS. Looked through a lot of parish chest documents for my Suffolk families. Would love to find some Quakers – their recordkeeping is amazing, docs usually easy to read!
I acquired all my grandfather's Hibernian sashes by writing to the society in Brisbane. What a coup! Matched up with news stories incl photos and family photos, and my memory of him at Corpus Christ processions
I am going to start working on the people on the headstones in the local graveyard many are in Welsh the parish records may also be in Welsh
I found Lutheran Church records in Toowoomba at the Local History Society that showed how much my g g g grandfather donated towards the building of the first Lutheran Church there. Shows economic circumstances
I've done Salvation Army research at the archives in Melbourne. Really useful
Have checked out St Georges church records in Battery Point Hobart. Found info on communion etc for mum, her sister and cousins
Australia (various states), England, Scotland, Ireland, Bavaria, Wales (ltd). TIP: Look beyond your own ancestor's events to witnesses etc.
US, Canada, England, Wales, Scotland, Ireland, S. Africa (none in ANZ so far). Yes, easy to interpret although I had to rely on my school French for some and a good map of Wales and a grounding in non-conformity/Methodism/Bible Christians for others!
I guess I have used the most predictable ones e.g. baptisms, burials and marriage records but I have also been interested to learn about other sources like tithe records e.g. in Wales which can give quite detailed information about family and FANS.
Where can we find Church, Parish or other Religious records? Suggest tips for understanding and using Church/Parish records.
A google book search showed me that I had an ancestor who was a Sexton and who wrote hymns. Also another who was a parson. I didn't find this anywhere else
Don't forget the Kirk session records now available at @ScotlandsPeople for more than the christening, marriages and burials.

Thanks Fran. I got amazing detail from the Kirk sessions during one day's intense research in SCT. It enabled me to narrow down my ancestor's approx year of death and the parish support they were receiving
It is worth joining the county family history society if you are stuck, eg Devon has lots of records available to members. Often have facebook group where you can ask questions too. And occasionally offer to investigate 'brick walls'.
a good place to find out about UK records for an area is Genuki. Put this and the Parish or place name into your. search engine and it usually comes up trumps! There are also 'online parish clerks' for some areas who are a great contact point.
Many Irish church records have been digitised and indexed but not all. @NLIreland holds digital images of many of the RC parish registers up to about 1880s. Irishgenealogy.ie have indexed RC/CofI parish record for Dublin and some other areas

FMP/Ancestry have indexed these parish records (caution transcription errors) Rootsireland have transcriptions of many later records and also have transcribed e.g. parish census. CofI/other faiths usually held in archives of those churches but some local.

Also use rootsireland.ie (€) for better transcriptions and different but overlapping coverage.

Yes! And also good for CofI records in some parishes. And one of the features I like is that you can search by e.g. marriages by Father's name and in some counties events by name of witness/sponsor

Only record of one GGGPs marriage found on Rootsireland (no civil record found for some reason!)
Check FamilySearch and their wiki for details on your parish/area of interest – wonderful information about what records there are and where you might find them. Many registers digitised and online too.
The Genealogist is good for non conformists and not just transcriptions
FamilySearch has lots. Scotlands People, Irish Genealogy. Not many baptisms found for my family.
All the big genealogy sites have information about using Church Records. Well worth reading.
Many records are being digitised by FMP & Ancestry but some are still only accessible in the Archives Family Search have some only accessible at FHL
Amazing background and clues can be found in surprising books eg a history of Bishop P Dunne. Told of his influence in his parish (my ancestors'), attitudes to working life etc
For the first time in my research I am using English parish baptism records. I am used to the mother's maiden names being used in Ireland, Scotland, Channel Islands and Ticino! So I feel deprived if England.
information on church records are "everywhere". Books especially can be very informative for early pioneer days. Archives, LDS, online, on site in a church

yes good point Pauleen. Societies have often published books/indexes to local parish records but of course you always want to see the original.
General comments
As I got into family history I was astounded to find my father's "non-Catholic" family had even Presbyterian-RC (maternal & Paternal) and my mother's dyed-in-the wool RC was Methodist-Anglican-RC

My Scottish grandfather was Catholic Pauleen but my Irish grandmother Protestant so she pretended his family were not catholic even popping an A in the Mc to make it Mac and less catholic looking. Sometimes our ancestors did strange things

Growing up in the sixties when it was very much WASP / Catholic divide – delighted to discover Irish Catholic convict ancestors & amused by gg grandfather buried in c of e section & both wives (who were sisters) in the RC section at Rookwood
Blog posts relating to church and religion
Pauleen – Irish in Surry Hills, Catholic branches, Corpus Christi march, Church records and archives, Church archives,
Hilary – Settlement examination,
Alex – Workhouse register,
Readers: Which church or parish records have you found useful? What interesting information did you find?