One of the #ANZAncestryTime chats in June was all about heirlooms. Here is what we talked about: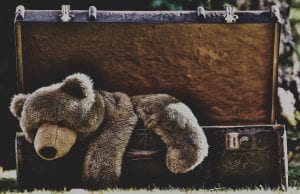 Family heirlooms are a link to the past. What types of items do you consider to be family heirlooms?
I have a range of items. That includes the 1805 New Testament that had my 2xggrandpa's 2nd family in it and continued with my ggrandpa's 2nd marriage. There are books, a carved table, the christening gown, etc
Christening gowns. Unless they are looked after very carefully they do yellow with age. With great guilt I finally tossed mine away just because it had mildew from I think milk stains. But I took photos before I tossed it.
I have all sorts of things, ranging from a huge blanket box (was my grandmother's glory box, now used for my kids' puzzles and things), through to more standard Bibles, photos, rosaries etc.

My great-grandfather made it for her in the late 1920s. It's about 1.5m wide, and built to be a great height for sitting on. It's so sturdy it can support the weight of a couple of adults.
My maternal grandmothers golfing trophy
Things that have been handed down, they might be objects used daily or things in china cabinets etc

Oh yes…the china cabinet…I need to go through mine and weed it. All sorts of nonsense has ended up in it. I have dolls my grandmother gave me from her travels and "pottery" the children made at school.
Final ones from mum, vases given to her by two different aunts #ANZAncestryTime pic.twitter.com/lEQgIEcTYw

— Sue Wyatt (@tasteach) June 8, 2021

I consider pretty much anything I inherit to be a family heirloom. Right down to a polished and hand carved carved peach stone basket made for my Irish grandmother as a child
Family heirlooms – anything that tangibly connects you to your ancestors, regardless of monetary 'value'

Yes it is the emotional connection or sentimental value rather than the $ value isn't it?

Absolutely. Having said tangible in previous tweet tho' I'm thinking about the old bricks in our local church handled by GGGG'father's good friend. Tangible, but it is the connections they allow me to make in my mind that make them a sort of secondary 'heirloom'!
Photographs, china, linen, objects, jewellery, handkerchiefs, war medals, furniture, paintings, a large old trunk with an old wedding dress inside….and of course crochet blankets made by a great aunt! And hand painted china made by a 97 year old great aunt is very special
Things I consider as heirlooms are some crochet and embroidery from my Nana, Mum and her sisters, jewellery from my Nana and Mum and an Aunt. While I do not have any – bibles of course.

oh yes…the linen! I used all the tablecloths my grandmother stitched. Some are looking a bit bleak now but I am glad they were on display rather than hidden in a cupboard.

Already peoples' answers are reminding me of things I have that didn't immediately jump to mind, like blankets crocheted by my grandmother

I forgot my nana's crochet items Fran. She gave me things for my 'glory box' that she crocheted.
I have squares knitted by Grandma intended for a blanket dating back to late 70s. I've repaired & knitted extras. Keep meaning to ask my mother to sew up to create a 3 generational heirloom for me daughter.
I'd say anything old piece of memorabilia could be classed as an heirloom. It could be something treasured by your ancestor.
I really don't think an heirloom is dependant on it being of great monetary value. To me, it doesn't matter if it's a cheap piece of memorabilia if it has ancestral value or represents personal memories
I have my mother's handwritten recipe book … a bit ironic given that I only cook when I absolutely have to … so just looking after it for the next generation.

I have a recipe book written by my great aunt during her life in Malaya [s] after WW2 with her husband a major in the army. She even lists who gave her each recipe
#ANZAncestryTime A1 Great question! I think family heirlooms can be anything really. From a lump of wood which we have in our house from the original pioneer cottage on the Gold Coast through to an ice bucket my grandfather was presented with as a retirement gift. pic.twitter.com/2MWj7Z2RV3

— alex daw (@luvviealex) June 8, 2021
We have a lot of postcards, some with handwritten messages on the back, inherited from my husband's grandmother via his mother
If more than one generation has safeguarded it, it is an heirloom among other things – (mat.) Gramma Grace's birth certificate; fm Mama🐰 for me to keep safe – (pat.) Papa John's wedding portrait; fm Dad to me, to my brother, back to me
Tell us about your most significant family heirlooms. Do you know about or have you researched their history?
Two favourites. Earrings from my Aunt and a jewellery box my Dad made and Mum lined it in royal blue velvet like material. It will probably be dumped by the people clearing the place after I leave. No research as they were made and purchased in my life time.
I have this thermometer that used to belong to my grandparents – I love it hanging in my kitchen to remind me of them. #ANZAncestryTime pic.twitter.com/Za8DL3vLvU

— Maggie Gaffney (@iwikiwichick) June 8, 2021
My great uncle Ron's medals from WW2 are right up there. He was KIA, and when I inherited them they were still in the box the war office posted them in. I had them mounted.

I think that is an excellent idea. Having them on display makes them even more special rather than tucked away in a box.
One of the most significant heirlooms in our family is my grandfather's christening gown, more than likely made by his grandmother. It dates from 1910 and has been used by most family members, including my own children.
My pride and joys: an Irish marriage certificate (certified) of my mat. 2x GtGrdparents dated 1876; and, the guest book (1959) from the funeral of my mat. grandmother, Grace
A2. Had to find the photo of it! This is a coin turned necklace (by my grandmother) that was given to my great grandparents on their wedding day with the date inscribed on the coin with their names in Irish. It's now 100 years old! https://t.co/Fnwunt7BjE

— ☘ Daniel Loftus | Daniel's Genealogy ☘ (@DanielGenealogy) June 8, 2021

I have very few family heirlooms. The ones that mean the most to me are two books that were given to me by my great grandmother when I was a teenager. They are children's adventure books published in the 19th century. They are very precious to me
ah yes books….I am finding it very difficult to let go of the Girls Own Annual my mother had..it's falling to pieces but I love it so much. It has fab things in it like how to make a dressing gown out of a blanket.
This is an heirloom from dads foster brother who we called Uncle Harry. #ANZAncestryTime https://t.co/gf28r2TGzF

— Sue Wyatt (@tasteach) June 8, 2021
I think my most significant family heirlooms would be wedding rings of ancestors that I now wear. I think of them each time I wear a ring.

Again you've reminded me Sharn – my grandmother's wedding ring became my wedding ring but it's currently in my sister's safe because I'm not a ring person!

At some point, my mother had her wedding ring combined with her mother's wedding ring and had a small blue stone (?) put in it. I wear it every day.
My grandmother gave me a huge tablecloth that had been beautifully and very intricately crocheted by her mother. It's very precious to me
Among my mother in law's things after she died I found a beautiful fine glass and gold vase with a NOTE inside. It was from WW2 refugee thanking a g aunt for helping her. The vase was obviously a gift. I plan to research the German family who owned the vase
I can't be specific about significant heirlooms. I suspect it could well be the 'everyday' ones of the mirror I mentioned plus my grandmother's dresser, which have been mine since she died & I don't really think of them

when I really think about it, it is probably my mother's desk that I am sitting at now…it's so lovely and big with all sorts of pull out extra side desk bits and drawers. She restored it so that makes it even more special.

I'm sitting at my father's desk. It's an old teak rolltop desk. He always wanted one growing up, and bought it when he got full-time work. Mum wanted to chuck it when he died, but it didn't seem right. She thought it wouldn't work with a computer, but I'm a laptop person.

isn't it funny what appeals to us in our lives? Roll top desks are really special and I anticipate a bit of a fisticuffs when my father dies and the roll-top desk is up for grabs. Now me, I've longed for a pianola and a grandfather clock….one day 😉
When we were helping declutter my parents' house before they moved, I came across some wooden egg cups owned by my great grandmother. They were fugly and too small for modern-sized eggs, so off they went to the charity shop to be loved (?) by someone else
The things I treasure most are the photographs I have been given by lots of relatives as the family history keeper. I try to put lots of them on posts in my blog

Sharing means that they will survive longer.

Sue yes, I agree. What can bring our ancestors more to life than photos? And I grieve the photos that just don't seem to exist e.g. photos of both my grandparents weddings – what's with that??? Must have been the wretched fire.

My parents didn't have wedding photos because the photographer turned up drunk and was booted out by my uncle. Mother did a studio one in her gown some time later. There was a nice write-up in the newspaper which I found on Papers Past! And my sister has the wedding guest list which I scanned hastily – and need a better copy.
This session reminds me of things my cousins have and they shared a photo. I digitally added a wooden frame to recreate my childhood memory. Nana in fancy dress on the ship going to NZ in the early 1920s.#ANZAncestryTime #familyhistory #heirlooms pic.twitter.com/Tzw60RFJ4r

— fran kitto (@travelgenee) June 8, 2021
Great discussion then about Fran and the French nose she possibly inherited from her Nana in the picture.
My late maternal aunt entered a competition by 1 of Australia's big 4 banks for which she won a commemorative gold coin beautifully presented in a wooden box.
Have you recorded the stories of your family heirlooms? Have you researched other people's heirlooms you have found?
I've started putting notes with the couple of things I have stashed away, but must do that for more of them, or at least tell/blog about the stories behind the items.
After researching a great great grandmother, I found her brother in law was a piano forte maker in Hobart in the 1870s. I received a piano from her grandson – wonder if the b-i-l made it?
I have written about the New Testament. I have set up a project to write about the christening gown, trying to find everyone who has used it. I want to take detailed photos of it and see how it was made – and remade for bigger children
Lazy blogger here: No except for a few Instagram images with a short note about items. One day I will get to write more about things important to me. I do often avoid talking about some items – never know who is checking out posts / security issues.
One thing I would like to have is some "Kitto" buttons from my great grand fathers tailors businessman in Wellington. I remember them in a button box my grand mother left us play with when staying over.

I think I have my Nanna's button tin – goodness knows what I'll do with it, but might be worth a wee fossick in there

Maggie I have bottles of buttons from a g aunt, a grandmother and a mother in law. Heaven knows why I keep them but I can't part with them

Playing with buttons was such fun. My grandfather was a tailor in Whanganui. Apparently some of his suits may still be in the Repertory costume store.
Alex – the President's Cup, Heirlooms,
Maggie – christening gown,
Sue – Carnival glass,
Jennifer – Hilda Gilmour,
Leprechaun Rabbit – Draw a memory,
Have you found ways to preserve your family heirlooms? ie inventories, photographs, stories, storage, plans for them?
Create a vault for your family heirlooms
I feel I must add at the 11th hour that Shauna Hicks has written a beaut little book too on Family Archives which is very helpful.
You definitely can't keep everything! I wonder what our children will want to keep to remind themselves of us!

an interesting question Helen. I know my kids are very keen to de-clutter now. And I can't help but agree with them. Too much stuff.

Our son said he would like 2 small brass pieces as he remembers them from childhood

I don't like purely decorative things, so good if they have a purpose. Need to fix my grandfather's clock!
I have put a note detailing the providence of the tablecloth made by my great grandmother. I'm terrified that one day, when I'm gone, it will be thrown out
I have most of mine in a large box, lined with archival tissue and all sorts of things to keep them safe. They are all photographed and written up in my FTM program, linked to each of the people associated with the item.
A3 I am taking my heirlooms to my nephew when I visit. He has the New Testament, lots of photo albums and papers, books and the table that I believe came from Williamstown with my grandparents when they came to NZ in 1882 #ANZAncestryTime pic.twitter.com/QG7PSufbdG

— Margaret Bailey (@MargLBailey) June 8, 2021
My linen and crochet pieces need some care! No inventories. Just sitting in a cupboard!
I have scans of the family information in the New Testament. I plan to take detailed photos of the gown. I photo objects before I pass them on. I have set myself a task to write about them. My will leaves them to my nephew
Plans, but no action so far! Apart from one blog post, and a start to collecting photographs of relatives in Grandad's christening gown. Maybe a 2022 project.
I have some things stored in an old camphor chest. I had planned to use lockdown to make an inventory but time got away from me. I plan to photograph each object, list and add information. That's the plan…
There wouldn't be many for me to do an inventory of, I don't really have any apart from that one I posted earlier. Daniel
#ANZAncestryTime A4 Amy Crow Johnston's podcast about decluttering and family history https://t.co/SoKP0t2tXO is good. As is book Downsizing with family history in mind by DN & A Lee. Basically unless you are displaying your heirlooms why do you keep them? pic.twitter.com/y1BbWqZrwY

— alex daw (@luvviealex) June 8, 2021

Mine are all on display that I still have. Which reminds me I need to think about what happens to my own items, not the ones that were passed to me. My Japanese dolls, paintings I bought, etc
Even more so when you have no children as I do. Maybe some of my great nieces and nephews will want them. I am decluttering for lots of items, finding homes for them
When I think of the things tossed that were special at one time, to someone, it's sad. With the growth of consumerism from the 1950s on things are not meant to last many lifetimes. A waste too.
I've catalogued the memorabilia I have so far received so there is a logical chronological record of what is in my collection
I've digitised all paperwork and started getting it ready to hand over to local history groups. Just hoping they want them in this digital age
Readers: What heirlooms do you treasure the most and why?