John Dav(e)y was born 21 Jan 1834 as the 4th out of 12 children. His parents were John Dav(e)y (1800-1874) and Mary Anne Jennings (1807-1883). He was born at Clyst Honiton, in the county of Devon in England. A year later, his older brother Thomas passed away aged 7. In 1836, another brother was born and given the name Tom. In 1837, he lost another sibling Mary his oldest sister.
Siblings
1828 – Thomas – died in 1835
1830 – Mary – died in 1837
1832 – Selina
1836 – Tom
1838 – Herman – died in 1843
1840 – Mark
1843 – Luke (DNA match to a descendant)
1845 – Herman
1848 – Matthew Adam
1851 – George
1854 – Michael
Looking at the various births of John's siblings some are born in Clyst Honiton, others in Heavitree and Clyst St George. The following is from Whites Devonshire Directory published in 1850 found on the relevant village pages at GENUKI.
CLIST HONITON, a village and parish on the east side of the river Clist, 4 miles E. by N. of Exeter, contains 467 souls, and 1760 acres of land.
The village of HEAVITREE, one mile E. of Exeter, has many neat houses, and is said to have derived its name from having been formerly the place of execution for the city.
CLIST ST. GEORGE, or Clyst St. George, a scattered village and parish, 1½ miles E by N. of Topsham, and 4 miles S.E. of Exeter, has 370 inhabitants, and 1001 acres of land.
In the 1841 English census, the family, including the children Selina, John, Tom, Hermon and Mark, were living in the village at St Georges Clyst. John senior was a carpenter.
By the 1851 census, John senior was aged 45 and his occupation was a master carpenter. John junior was an agricultural labourer. Living at home with their parents and John were Mark, Luke, Herman and Matthew. They were living in South Wonford in the parish of Heavitree.
John junior set sail on barque Wanderer under a bounty immigrant scheme. The ship master was John Woodcock. They left London 31 October 1854, the Downs on 3 November 1854, finally arriving in Hobart Town 13 February 1855. A total of 182 souls arrived safely from England and Scotland.
According to the shipping records John was 20 years old, religion Church of England and he could read and write. His occupation was farm servant. George Meredith was the name of the person on whose application John was sent out. Three other single men were also employed by George Meredith who would be reimbursed by the government for part of the cost of the bounty ticket.
John was occasionally mentioned in the 'Meredith papers' which are housed in the State Library Archives in Hobart.  He was recorded last at 'Cambria' in January 1857.  His wages at this time were 7 pounds and 10 shillings per quarter.
Marriage and children
John Davey and Annie Dixon were married at the Manse at Evandale, Tasmania on 18 July 1859. John was a bachelor aged 26 while Anne was a spinster aged 18. Witnesses to the marriage were Hannah Dixon and William Costley.
Over the next 29 years until John died, the couple raised seven sons and five daughters to adulthood. They lived in English Town, near Evandale, Tasmania. The photo shows the newspapered walls inside the house as taken in 1987.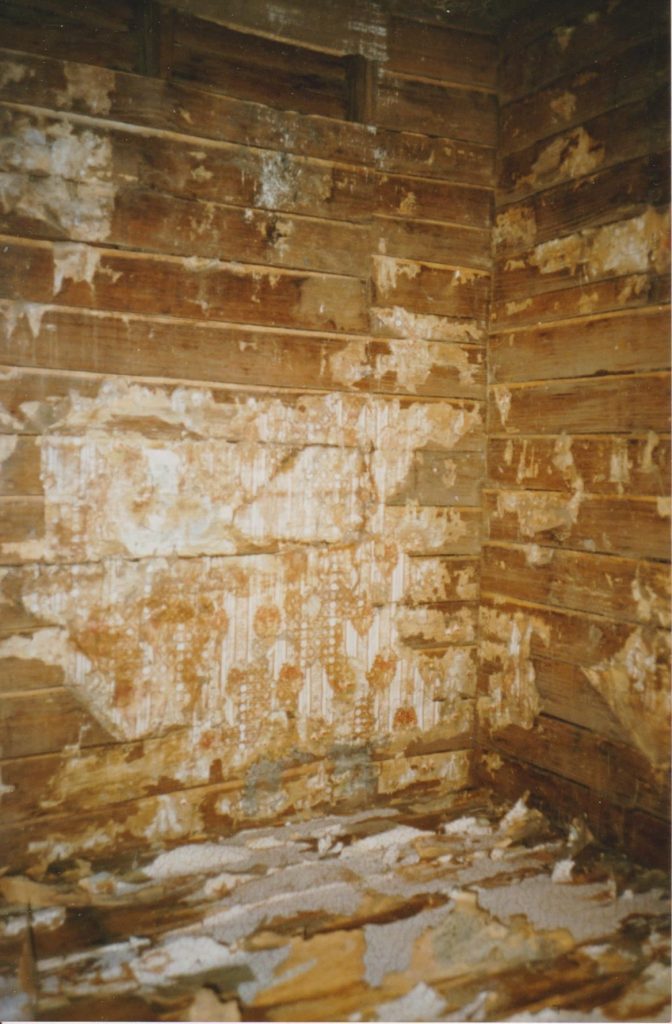 1860 – William John – grandmother Mary was the informant from Evandale
1861 – Mary Elizabeth – father John, labourer from Nile was informant
1863 – Hannah Selina – father John, labourer
1865 – George – father John, farmer
1867 – Emma Louisa – father John, labourer
1869 – Adam – father John, farmer from Camperdown
1872 – Charles Wesley –
1873 – Frank Thomas aka "Thomas" –
1876 – Samuel Percy aka "Frank" – John Griffin, constable from Deddington was informant
1878 – Harry – father John, farmer from Blessington
1880 – Eliza Amy – Adam Burston, constable Deddington
1885 – William – George Wills, constable Deddington
1885 – Ellen Anne –
Searching through the Tasmanian Names Index, the births of Charles, Frank and Ellen Anne are not found.
Sometime in the 1870's John's younger brother George also immigrated but he headed to New Zealand.
On 6 May 1873, John was charged with larceny and spent three months in gaol in Launceston. A report of the crime was written up in the local paper and he was named in the police gazette for 1873.
In February 1874, his father John senior passed away at Heavitree, Devon, England. His mother Mary Anne passed away in 1883 also at Heavitree.
John must have had a tough life in Tasmania as he worked for many farmers around the Evandale area and would have had to ride a horse or walk to get to each farm.
John passed away in 1888 aged 55 years old. He died from jaundice according to his death record. He left his wife Annie to bring up 6 children under the age of 15. What a sad Christmas in 1888!